Published: October 31, 2005, By pffc-online.com
Narrow Web Machinery, Accessories, Services
















Butt Splicer Gives Clean Cut
Martin Automatic, Rockford, IL; 815/654-4800; martinautomatic.com
The MBNT butt splicer for narrow web label converting and flexible package printing offers nonstop unwinding technology. Patented rolling shear splice unit guarantees a clean cut, no overlap, and a tight bond. Tension control system features inertia compensation for consistent, accurate tension of the web as it enters the press. Two cantilevered, pneumatic spindles hold two full-diameter rolls.
---
Uncoated Papers for Indigo Presses Expand Capabilities
Mohawk Paper Mills, Cohoes, NY; 800/THEMILL; mohawkpaper.com
Superfine i-Tone is called a breakthrough in uncoated papers for HP Indigo printers. Said to allow printers to expand their capabilities and increase profits. According to company, papers offer exceptional image transfer; bring new value and flexibility to the company's digital papers portfolio without shelf-life problems; and work with both dry toner and ElectroInk.
---

Wide Range of Brakes
Merobel, Ferrieres, France; +33 (0) 2 38 94 42 44; merobel.com
EMP brakes are equipped with a comprehensive range of cooling systems and the DGT 300 digital tension controller. Brakes are said to be reliable and long-lasting, easier to implement than friction systems, cost-effective, and easy to maintain. Range is very wide to meet requirements of the narrow web label industry.
---
Cure with E-Beam Emitter
Jetrion, Ann Arbor, MI; 734/622-6650; jetrion.com
In partnership with Advanced Electron Beams, company offers the AEB e-beam emitter. Small unit is comparable in size to most UV systems, fits on all types of presses, and can be retrofitted easily on existing presses, company says. Reportedly allows printer to cure black completely, as well as other custom colors and clear inks, on press at high speeds, with high quality, ink gloss, and adhesion. Company's current line of UV inks can be cured with this emitter.
---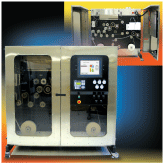 Maximize Digital Image Quality
Imaging Technology Intl. (iTi) , Boulder, CO; 303/443-1036; imagingtechnology-corp.com
The Digital Web Press (DWP) for high-speed printing of digital data on flexible substrates is said to deliver affordable, high-volume production capabilities. Enables variable-length runs of any given image, just-in-time production, and the ability to support changing images on the fly. Company says substrate-handling system minimizes web weave and speed variations to maximize image quality while running at speeds to 150 fpm. Features 8–24 printheads and print widths from 2–6 in.
---
UV Inks are Highly Opaque
SunJet, div. of Sun Chemical, Amelia, OH; 513/753-9550; sunjetink.com
Crystal URW UV-curing white inks are said to offer enhanced profile. Applications include package printing on digital presses that use drop-on-demand inkjet printheads. Reportedly, inks are highly pigmented and offer outstanding opacity, covering power, and whiteness. Can be printed without special primers.
---
Measure UV with Thin Labels
UV Process Supply, Chicago, IL; 773/248-0099; uvprocess.com
Con-Trol-Cure UV Intensity Labels are described as an alternative UV measurement tool. Paper-thin, photochromic, p-s labels change color upon receiving a UV dose. Said to offer benefits over previous generation of this technology, including a greater, easier to identify color shift; sensitivity range 5x greater; and more stable, repeatable, and consistent color change. Reliable color change enables comparison to a dose chart representing UV dose in millijoules. Not subject to increasing color changes at elevated temperatures.
---
CI Press Has New Features
Etirama, Sorocaba, Brazil; +55 (15) 32233332; etirama.com
The FS2540 Premium CI press is a newer version of the Flexorama 250. Features include a bigger central drum; more efficient drying between colors; automatic tension control; a varnish applicator; UV heater; cold and hot stamping; and lamination. A mobile display that the printer can move all over the machine allows for total control of the machine, including drying between colors, final drying control, turning on and off plate cylinders, and more.
---