Published: October 31, 2005, By PFFC staff
Machinery, Accessories, Services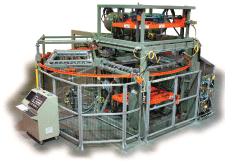 Re-Engineered Thermoformers Offered
Brown Machine, Beaverton, MI; 877/702-4142; machine.com
machine.com
The re-engineered Ovation Rotary Series cut-sheet thermoforming machines provide shorter machine lead-time deliveries and improved cost-effectiveness, company says. The series comprises three standard models: 48 x 72 in., 60 x 96 in., and 72 x 120 in. Standard features include an internal modem that provides 24/7 diagnostic support and programmable positioning of platens for accuracy, controllability, and changeover speed.
---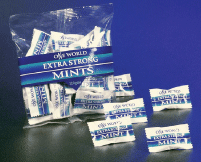 Coating Adds Barrier
Innovia Films, Smyrna, GA; 770/970-8212; innoviafilms.com
Reformulated acrylic-coated Propafilm FFX film has a broad sealing range, company says, and reportedly provides 40% more barrier to water vapor and significantly improved gas and aroma barrier. Runs at line speeds to 300 ft of film/min.



---
Align Rollers, Prevent Problems
Pruftechnik Service, Marlton, NJ; 856/988-5523; paralign.info
The Paralign roller alignment system uses inertial measurement technology to provide reliable graphical and numerical information for the necessary corrective measures. Measurements are saved and transferred wirelessly to a PC, where they can be analyzed and output as a graphic or Excel file.
---
Test Barrier at Two Points
PBI-Dansensor America, Glen Rock, NJ; 201/251-6490; pbi-dansensor.com
Lyssy MVTR and oxygen permeation testers validate metallized barrier performance properties prior to material use at both point of receipt of the material and when material is taken from storage to ensure barrier properties have not become compromised by oxidation or moisture.
---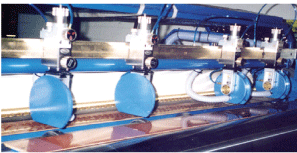 Vacuum System for Sheeters
Maxson Automatic Machinery Co. , Westerly, RI; 401/596-0162; maxsonautomatic.com
Company offers a vacuum system for its sheeters that removes dust at the slitters, reportedly ensuring the cleanliness of sheeted stock and minimizing dust-related defects such as hickies at the printing press. Suction is applied at the point of slitting, removing any debris from the slit edge. Sheet metal bonnets enclose all but the contact edge of the top slitter blade and bottom slitter ring. Flexible hosing from each slitter is joined to a common manifold that is piped to a blower and duct collection box.
---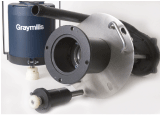 Bearings Last on Ink Pump Motors
Graymills Corp. , Chicago, IL; 773/477-4100; graymills.com
QuickChange motor systems for ink pumps give users the ability to remove expensive motors quickly, without tools, before sending pumps for cleaning. Motor connection is via an aluminum housing that disperses heat and runs cooler. Wider spacing of the bearings on the shaft provides enhanced stability, reducing load on the bearings and resulting in a longer bearing life.
---
Bond Images without Chemistry
Agfa Graphics Systems, Ridgefield Pk., NJ; 800/TRY-AGFA; agfa.com
The :Azura grained and anodized aluminum thermal plate uses patented ThermoFuse technology to bond images to the plate physically, without any chemical processing. A clean-out step follows the non-ablative imaging process to enhance contrast. The result is said to be highly stable and predictable thermal imaging.
---
Coex Film from PVDC Resin
Ampac Flexibles, Performance Films, Cincinnati, OH; 513/671-1777; ampaconline.com
Company announces the next generation of coextruded barrier films featuring Dow Chemical Co.'s Saran PVDC resin. The film is said to be suited for standard converting equipment producing laminations and/or rollstock for a wide variety of packaging applications requiring high oxygen barrier.
---

Shaft Collars in Many Varieties
Stafford Mfg. Corp. , North Reading, MA; 800/695-5551; staffordmfg.com
Shaft collars are offered with bores that match different shaft configurations. Collars are offered with various types of threaded-, square-, smooth-, hex-, and keyed-bores to match positive drive shafts precisely. Can be ordered in standard one-piece, two-piece, and hinged-collar styles machined from steel, 303 stainless steel, and aluminum.
---
Proof with Exact Match
HarperScientific, Charlotte, NC; 800/438-3111; harperscientific.com
The Phantom Precision Hand Proofer employs ceramic, laser-engraved anilox rolls so cells can duplicate the exact line screen and volume as the rolls on user's press. Tool is designed to draw down water, UV, or solvent-based inks, adhesives, or coatings. Can be used on any substrate. Offers a quick-change steel doctor blade and a solvent-resistant rubber transfer roll.
---
Three Water-Based Coatings
Michelman, Cincinnati, OH; 513/793-7766; michem.com
Water-based coatings include VaporCoat, which protects against moisture penetration; MichemCoat, to protect paperboard against oil and grease saturation and offer some water resistance; and Nomar, which is applied to paperboard or corrugated packaging to protect the finishes of expensive consumer and industrial goods from abrasion or scuffing. All are said to be repulpable, recyclable, and energy-efficient.
---
Metallized PET Similar to Foil
Celplast Metallized Products, Toronto, ON, Canada; 416/293-4330; cmp.celplast.com
Foilmet Plus process is said to give standard 48-ga PET films barrier properties similar to those of foil. All rolls run under the new process are being certified with OTR values of <0.02 cc/100 in.2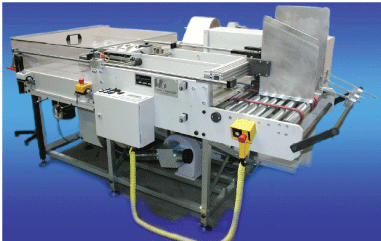 Apply Cutting Edges with Ease
Carton Edge Systems, Coventry, UK; +44 (0) 24 7642 2221
With Heiber & Schroder, company offers the EcoEdge Mk2, a new generation of EcoEdge cutter carton machines. Automatically applies cutting edges to film, foil, and paper kitchen dispensing cartons. Redesigned to improve productivity, machines offer reduced changeover times and simplified makeready. A new gluing system permits pre-glued and unglued material to be used on the same machine. Can handle carton board or fine flute corrugated materials.
---
Design Complex Blanking Tools
Bobst Group USA, Roseland, NJ; 888/226-8800; bobstgroup.com
The Angle Lock blank separation system gives users the ability to design and fabricate even complex single- or double-knife blanking tools quickly. Said to make changeover fast and easy—the user simply aligns the centerline bracket, snaps the lead edge into the pullout frame, and secures the trailing edge. Tool is centered automatically and squared to the pull-out frame. Components are reusable, providing additional economy.
---
Guide Webs Accurately
AccuWeb, Madison, WI; 608/223-0625; accuweb.com
The Micro 1000 is said to deliver a high level of web guide accuracy. Interfaces with company's dynamically compensated WideArray and PointSource edge detectors, the AccuBeam II line guide, and light-to-medium thrust linear actuators, all in one compact enclosure. Saves set-up time by performing continuous automatic calibration of the edge detectors through company's exclusive dynamic compensation process.
---