Published: September 30, 2005, By PFFC staff
Packages
Promoting Paperboard
MeadWestvaco Packaging Resources Group, Stamford, CT, is offering a new portfolio highlighting the packaging and graphic benefits of its Crescendo coated-one-side paperboard.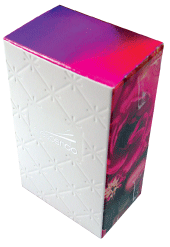 The portfolio includes both an envelope and folder as well as a perforated full-color sample carton that can be removed easily and assembled to illustrate Crescendo's performance for packaging needs.
The carton shows a bright, floral image that is printed using four-color, spot UV, holographic and silver foil, with emboss and blind deboss techniques also represented. The portfolio includes complete manufacturing target information, including basis weights or grammages, thickness, calipers, internal bond scores, and moisture and stiffness levels. The information is presented in five languages.
Called an ideal choice for luxury packaging, this GZ/SBS paperboard is said to offer exceptional whiteness, brightness, and smoothness.
SUPPLIER INFO:
MeadWestvaco—meadwestvaco.com
---
---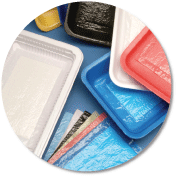 Eco-Friendly
What makes tray pads environmentally friendly? According to International Tray Pads & Packaging, Aberdeen, NC, its pads are constructed of natural cellulose fiber sheets and a PE film of very thin gauge. The pad's layered design separates and biodegrades in landfills, the company says, while the simple construction allows for manufacturing that is less costly and less energy-intensive while maintaining the industry-standard absorbency range of 15–30 grams. In addition, the open-edged design absorbs moisture within the package quickly. The tray pads can be used for red meat, pork, poultry, and associated products and are available in a variety of colors to match trays (though their manufacturer would probably say they're all "green").
---
---

Shiny & Strong
Carton manufacturer Oracle Packaging joined forces with Filmtech, a metallized film producer, to develop a new laminated board product for the beverage carrier market. Filmtech reports the increased strength and printing capability of the metallized film, combined with Oracle's high quality board substrate and in-line printing process, have resulted in a carrier that is strong and allows for "eye-popping" graphics. The metallized film is produced at Filmtech's Bean Station, TN, facility, then printed, laminated, and die-cut at Oracle's plant in Wilmington, NC.
SUPPLIER INFO:
Filmtech—filmtechinc.com
---