Published: August 31, 2005, By Edward Boyle, Contributing Editor
Humidification Systems
Everyone knows what a mess humidity can make of your hair. You should see what a lack of humidity does to film.
By early 2003, the executives at FLEXcon's Spencer, MA, facility had seen enough. That's when the company installed a complete engineered humidity control system, including ten Princess high-pressure mist humidification units from ML System, in the slitting and sheeting area of its more than 100,000-sq-ft plant.
Taming Static
In winter, relative humidity (RH) dropped to 15% or less in the plant, a common problem in northern states but a problem nonetheless. FLEXcon president Neil McDonough explains that low humidity can make films more susceptible to static, and the lower the humidity, the more static that is generated. Static also tends to attract dirt and dust, another detriment to producing a clean final product.
Ed Allie, director of engineering and maintenance at FLEXcon, notes that optimum RH levels for printing and converting are 40%–55% RH at 70 deg F. The drier air, he notes, caused static electricity, which became a significant manufacturing and safety issue.
"We concentrate on slitting and sheeting, where we convert polyester and polypropylene substrates into sheets and rolls," says Allie. "Static electricity affects the efficiency of our machinery and can damage it. We wanted to ensure employee safety, too. A static shock can cause people to flinch or jerk into equipment or stumble and fall."
Allie says static electricity also can damage the quality and printability of label materials, leading to customer complaints and reruns. Clear plastic labels are used on bottles and other containers for beverages and pharmaceuticals and in product identification on products like consumer electronics and power tools. Label appearance is crucially important, and "no one wants an unhappy customer," adds Allie.
"If we don't eliminate it here, static electricity discharges can be magnified as our customers print and die-cut labels. It can cause problems with ink adherence and also sheet separation problems, resulting in double-sheeting, which jams presses and other equipment, leading to downtime and waste. We knew maintaining RH in the 40 percent to 50 percent range would make the problem go away."
Energy-Efficient System
FLEXcon set three goals: Improve product quality and customer satisfaction; improve manufacturing efficiency; and reduce the risk of static electricity-related injuries. At the DRUPA trade show, Allie learned of high-pressure mist humidification systems by ML System from Husson, ML's exclusive North America distributor.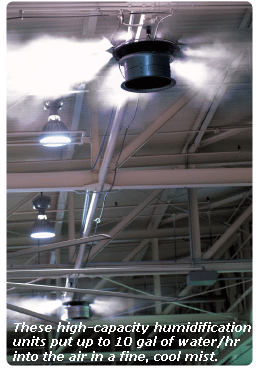 "We analyzed various types of systems," says Allie. "We narrowed the field to either a steam system or high-pressure humidification. We wanted a user-friendly system, easy to install and operate, and low maintenance. And we wanted an energy-efficient system."
FLEXcon subsequently ordered a system with ten ML Princess 2 units from Husson for installation at its Spencer facility, one of two in the US. The company also operates a new European manufacturing facility located in Glenrothes, Scotland. FLEXcon produces more than 10,000 unique film constructions every year and provides more than 360 off-the-shelf products.
Princess 2 units are high capacity, putting up to 10 gal of water/hr into the air in a fine, cool mist. Humidity is monitored at all times by remote meters linked to a programmable controller. If RH drops below the system's set point, control valves start the units and provide the mist needed to correct the RH level.
"The ML system has kept our RH levels very consistent, and it has met our expectations for easy operation, low maintenance, and low energy costs," Allie says.
Unexpected Benefits
According to Allie, measuring success has been simple. "Since we installed the ML system, we haven't had any significant problems with static electricity. None. There haven't been any major reruns or customer complaints related to static electricity issues," he reports.
"We also haven't had any safety incidents related to static electricity. Our plant manager mentioned that having a higher RH has improved the health of our employees. There are fewer sick days for colds and allergies, and there's a noticeable difference in the comfort level."
Allie reports the company was so pleased with the ML systems that it subsequently ordered a system with 22 Princess 3 units (15 gal/hr) for the large slitting and sheeting area at its Columbus, NE, plant.
Says McDonough, "I think we accomplished two things: a healthier environment for our workers and a cleaner product we can ship to our customers."
---
---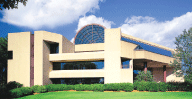 CONVERTER INFO:
FLEXcon
1 FLEXcon Industrial Pk.
Spencer, MA 01562
508/885-8200; flexcon.com

SUPPLIER INFO:
Husson Inc.—hussoninc.com
---