Published: July 31, 2005, By Yolanda Simonsis, Associate Publisher/Editor
Lean Manufacturing
Lean Manufacturing and Six Sigma…they aren't just buzzword phrases. Many converters take them very seriously—unlike other here-today-gone-tomorrow buzzwords—saying they are a way of life with staying power. Among those believers is Dura-Fibre LLC, Menasha, WI, a laminator, die-cutter, and printer of paperboard and other substrates. The company's new Operon Systems' RedHawk turnkey data gathering and analyzing tool is providing newfound manufacturing efficiencies of up to 25% over previous production standards—realized after only 11 weeks of operation. The tool is expected to help keep the company competitive both offshore and at home.
More and more, Lean Manufacturing and Six Sigma methods are the guiding principals by which both heavy and ancillary equipment vendors approach the research and development of new products. Every action and every process must contribute to the end product, and if it doesn't, it's history. There's no room for waste or anything remotely superfluous in a lean manufacturing operation. More than ever, converters are challenging vendors in the manufacture of equipment to meet the needs of a lean facility, starting at the office front door where orders are placed, through the manufacturing process, and out the shipping dock.
But how does a converter establish what is or isn't a necessary action or process, particularly when legacy equipment is in use? Assuming the action or process is necessary, then how does one use it most efficiently? For Dura-Fibre, the answer didn't come by traditional means. In fact, the history of how it managed to come to its present success is quite unconventional and worth a short detour before moving on with the answers to these questions.
Historical Detour
Dura-Fibre was formerly the laminating division of Menasha Corp., having been acquired by Dunsirn Partners in 2004. The name Dunsirn has been seen within the pages of several trade magazines in the past, including PFFC. Presently, the "Partners" segment of the name includes Brian Dunsirn, who was formerly president and CEO of Dunsirn Industries before it was sold to Avery Dennison in 2001; Duane Dunsirn, former chairman of Dunsirn Industries; and Jay Jensen, who has had previous corporate acquisition and management experience. Even before the beginnings of the 14-year-old Dunsirn Industries (upon its sale to Avery), the Dunsirn brothers had family roots in the printing industry where their father, the recently deceased Bob Dunsirn, acted as cofounder of Mid-America Tag and Label, growing it to a $25 million company. It was ultimately sold to Menasha Corp. (which was recently sold to WS Packaging), bringing them full circle to the Dura-Fibre of today.
Dunsirn Partners claims not to be brokers or merger and acquisition agents but is a group of entrepreneurial professionals that buys businesses directly. Dura-Fibre was one of these purchases, being among three acquisitions that represent half the partners' goal to own and operate a network of six companies. The most recent acquisition this past June includes the sale of the Specialty Papers business to Nekoosa Coated Products, also a Dunsirn Partners' property.
Further complicating this detour is Operon Systems LLC, a start-up solutions and software supplier also owned by Dunsirn Partners but started by Troy Dunsirn (Duane Dunsirn's son) and Mark Nickel. The RedHawk technology concept owes its existence as well to Dunsirn Industries, where its basic mode of development was first inspired. Today it is a fully operational performance-to-plan software productivity tool, providing real-time Manufacturing Productivity Solutions (MPS). It reportedly can be applied to most manufacturing process environments wherever machine downtime exists or there is variability in processes between operators.
RedHawk is a key element to strategizing the acquisition(s) of prospective companies for Dunsirn Partners in that the tool is implemented at a newly acquired facility, such as Dura-Fibre, to increase productivity and provide data for continuous improvement using Lean, Six Sigma, and other methods. The focus of a prospective acquisition is on increasing the new business's EBITDA (earnings before interest, taxes, depreciation, and amortization) by leveraging the improved productivity, available capacity, improved funding, and management expertise—all via RedHawk.
So, while Dunsirn Partners utilizes RedHawk to bring its acquisitions into profitability—and here's the kicker—it also is offering RedHawk to the industry-at-large for competitive converters to purchase. It presently has a total of 62 installations, and Brian Dunsirn believes Operon has only "cracked the surface."
Road Map to Success Now back to the questions left unanswered before our detour. Once Dunsirn Partners completed the purchase of Menasha's Dura-Fibre laminating division, the task was to make it more profitable. With the Dunsirn brothers' and partners' prior business history, they found themselves back on the road map in familiar territory. While Dura-Fibre may have been deemed a non-strategic division for Menasha, it became the task for Dunsirn Partners to make the newly stand-alone operation a thriving business. Previous experience at Dunsirn Industries proved invaluable in identifying, with the aid of Lean Manufacturing principles, what were considered necessary actions and processes. Pursuant to this, they set about determining how to perform the actions and processes most efficiently.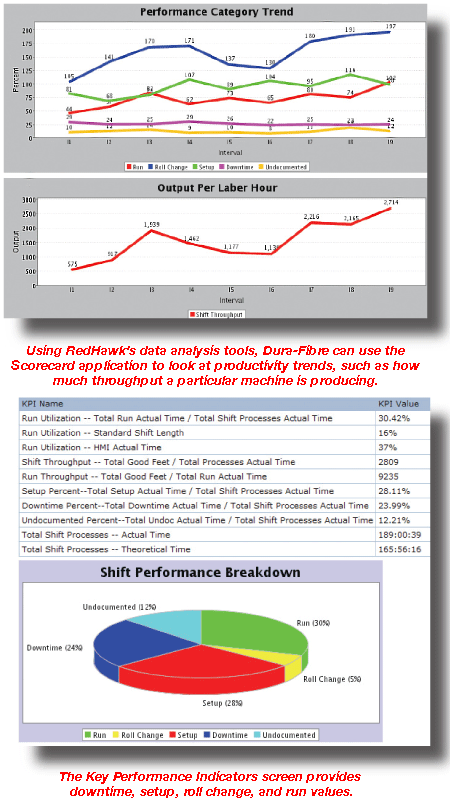 The key to making any converting machinery more efficient and more productive, explains Brian Dunsirn, is to make the machine more intelligent. This can't "be complicated with keyboards and mice. It must be really simple, easy to use, and a tool to empower the operator of the machine rather than a tool for the manager or the supervisor to come out and hit the operator with a stick." Interestingly enough, with the implementation of the RedHawk tool at union-employed Dura-Fibre, Dunsirn Partners has been pleasantly surprised. Brian explains, "They've taken to it. The whole argument or point I've been making all along is that it's really the US against the Chinese. It's not you against me. We have to work together. And this is a tool that can help us." Dura-Fibre has experienced total "buy-in" from union members without any threatening feelings. In fact, RedHawk has done much to promote a feeling of parity, fostering a sense of pride and achievement among operators.
Sparking Pit-Crew Mentality
The real-time data provided by RedHawk helped Dura-Fibre employees understand that when the machinery wasn't running, "then we're not making money," recalls Brian Dunsirn. With the aid of RedHawk, both operators and management can differentiate when there is a process problem, a materials inconsistency, or a skill-based operator issue.
"People in general are interested in doing a good job and in improving their skills," says Dunsirn. The tool has helped establish equity in a union environment in terms of performance from operator to operator, providing a fair method for performance appraisal. "It's not fair for operators to be booted out of their jobs without having the real opportunity to improve," he continues. Now Dura-Fibre has real-time, unmanipulated data with which operators are able to compare themselves quickly and easily to performance standards as well as against other operators. "We have big displays with all the real-time machine consoles, so the team leader in his office can determine if a process step is taking too long, such as when a display function starts flashing. He'll say, 'I have to go help these guys!' Like a pit-crew mentality."
Delivering the Data
Redhawk can be installed as a turnkey, standalone solution. The machine/operator interface is a freestanding enclosure, housing the necessary components to deliver data. Most important is the data being shown to the operator in real time: performance to plans of their shift, order, and current process.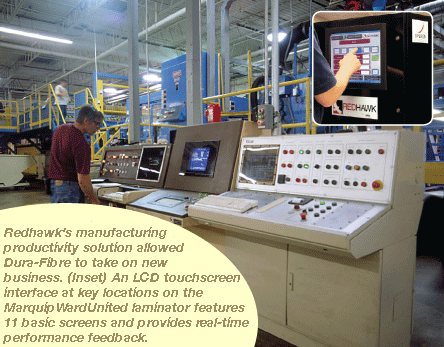 Bundled web reporting tools allow use anywhere on Dura-Fibre's local intranet. Productivity data can be viewed by site, shift, or individual machine operators. For example, a shift summary report tool displays a list of shifts that were completed. A tactical screen lists the completed jobs for a selected shift. An order detail screen allows any completed job selected from the tactical screen to be viewed in detail. All steps performed on the laminator to complete the job are displayed here.
Installing RedHawk at Dura-Fibre took one week. A four-step process involved the following and is described as standard procedure for most other installations, regardless of type:
Creating a process map that defines the linear coating processes required to complete an order;
Installing and configuring the RedHawk interface and web reporting tools to provide productivity data on the laminating process;
Training operators and management to use the machine interface and reporting tools along with understanding how and where the data is generated during each process step;
Providing a follow-up analysis one month after installation to obtain a productivity solution that determines how the system is functioning and whether adjustments or improvements are necessary.
More satisfying for Dura-Fibre president Jack Griffith and production manager Todd Price, they've been able to take on new business with 25% of machine time having been freed up for new jobs. And with the implementation of RedHawk as opposed to some Six Sigma projects, they're not only getting a constant score card, but they have been able to maintain the 25% gain in productivity without drifting back to pre-RedHawk rates. "Once you build the gain, you keep the gain," explains Griffith. And even in Six Sigma black belt projects, the difficulty has always been in getting accurate data to even start the projects, Dunsirn adds. As well, Dura-Fibre has been able to avoid the expensive capital costs of adding new machinery and the additional costs of hiring extra operators, supervision, scheduling, training, benefits, and healthcare that a major piece of new machinery requires.
The number one concern among employees, says Dunsirn, is job security. "The only way to have this in today's global environment is to be efficient and to give your customers value. If you have too many people and machines that are inefficient, then you're not going to be able to do that for very long."
See Operon Systems in Booth 19055 at the Print 05 & Converting 05 Show.
---
---
CONVERTER INFO:
Dura-Fibre LLC
352 Sixth St.
Menasha, WI 54952
920/969-3600; dura-fibre.com

SUPPLIER INFO:
Operon Systems—operonsystems.com
MarquipWardUnited—marquipwardunited.com
---