Published: June 30, 2005, By PFFC staff
Machinery, Accessories, Services
New Idler Design Aids Live Shaft Technology
Componex, Edgerton, WI; 608/884-2201; componex.net
The WINertia TQ is described as a breakthrough in live shaft technology. The idler is designed with a new torque coupling said to make the live shaft more affordable and easier to install than the standard live shaft idler roll. Facilitates installation, reduces labor, and allows shaft replacements without buying an entire idler roll, the company reports. Visit booth 17037.

---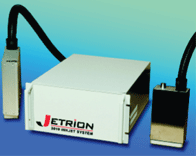 Run Digitally to 1,000 FPM
Jetrion, Ann Arbor, MI; 734/622-6000; jetrion.com
The 3010 ink jet system is designed for packaging, specialty applications, and more. DOD system runs with either UV or solvent inks at speeds to 1,000 fpm. Can be mounted virtually anywhere, company says, including in-line with a press or with a folder/gluer. Prints on paper, coated stocks, foils, or plastic cards. Visit booth 857.

---
Adjustable Hole Sizes Possible
Schober USA, Cincinnati, OH; 513/489-7393; schoberusa.com
The VentPerf-Cold system is designed for micro-hole patterns; the VentPerf-Hot system provides consistent quality holes in film and foam materials, reports company. Hole sizes are adjustable, and company can supply tools for virtually any hole pattern. Up to 600 holes/sq in. and speeds to 600 fpm can be achieved. No special operator skills are required. Visit booth 151.

---

Perfect Carton Stock in One Pass
Mitsubishi Lithographic Presses, Lincolnshire, IL; 847/634-9100; mlpusa.com
The Diamond 3000TP tandem perfector is a 40-in-wide machine said to enable printers to control front-to-back register when flipping paper in a sheet-fed press. Allows the printer to maintain the same gripper throughout the length of the press, which can include as many as 12 printing units. Runs at a top speed of 13,000 sheets/hr and handles stock thicknesses to 32 pts for folding carton applications. Can perfect carton stock in one pass. Visit booth 4028.

---
E-Service is Expanded
Heidelberg USA, Kennesaw, GA; 770/419-6500; usheidelberg.com
Company has expanded its systemservice with new remote service capabilities for Prinect Image Control users and "eSelfhelp," which provide expert knowledge for fast assistance any time of day. Global Expert Network (GEN) 24/7 service allows printers to access around-the-clock phone and remote support anywhere in the world. Visit booth 1200.

---
Print Variable Data with Ease
Printable Technologies, Solana Beach, CA; 800/220-1727; printable.com
The FusionPro 3.0 variable-data composition tool is said to provide document designers with better control of copy fitting and management of dynamic variable text in the document. Also reportedly simplifies the addition of new features and offers the ability to explore fully functional "timed" evaluation copies. Visit booth 7139.

---
Link Sales and Manufacturing
PlastiSoft Corp. , Toronto, ON, Canada; 905/760-0100; plastisoft.com
Company will integrate the Goldmine CRM (Contact Relationship Management) software suite from Front Range Solutions with its Tori-Flex enterprise software. The new technology will produce a link between the sales department and the manufacturing process aimed exclusively at flexible packaging. Link will ensure quotes, sales totals, manufacturing data, and other relevant information are available to the sales representative at any time or place by using the Goldmine Synch Engine. Visit booth 8532.

---
Ink Jet Printer Brings Quick ROI
Scitex Vision, Marietta, GA; 770/690-9355; scitexvision.com
The XLjet Premium ink jet printer features higher frequency printheads than previous models in the series. Said to combine high performance with high productivity to deliver a fast ROI. Available in widths of 2.2, 3.2, and 5 m, printer can switch easily among four-, six-, and eight-color production, company says, at a high quality output speed of 645 sq ft/hr or run in draft mode at 1,333 sq ft/hr. Visit booth 7539.

---
Cold Adhesives Consistently
Nordson Corp. , Duluth, GA; 800/683-2314; nordson.com
LA 300 dual-acting piston pumps for cold adhesives are designed for paper and paperboard converting applications such as folding carton and bag and sack manufacturing. Balanced air motor provides constant adhesive output to 120 liters/hr. Provides reliable delivery to high-speed lines and feeds dozens of guns simultaneously. High flow rates allow use of lower pressure, reducing risk of adhesive shearing. Visit booth 224.

---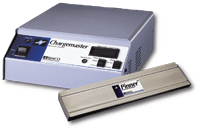 Control Static with Consistent Voltage
Simco Industrial Static Control, Hatfield, PA; 215/822-6401; simco-static.com
Chargemaster electrostatic generating systems provide what is said to be a cost-effective solution to increased productivity by automating the adhesion process while eliminating the need for adhesives. The CH 20, CH 30, and CH 50 are regulated DC power supplies utilizing high-frequency switching technology. This reportedly guarantees the output voltage is consistent with the voltage setting. Each unit is electronically current limited and features arc protection circuitry. Systems incorporate digitally controlled on/off and voltage control and have remote operation capability. Visit booth 249.

---
Dispense Hot Melt With Precision
Valco Cincinnati, Cincinnati, OH; 513/874-6550; valcocincinnatiinc.com
Model 2050 solenoid-operated dispensing hot melt valve is designed for precision glue patterns at high speeds. Narrow profile permits easy installation into space-restricted areas. All-electric design also offers reduced maintenance and operating costs, says company, adding features include a stroke adjustment for precision control of bead width and valve performance. Wear-resistant carbide ball/ceramic seat reportedly gives long service life. Visit booth 108.

---