Published: April 30, 2005, By PFFC staff
Machinery, Accessories, Services











Find Component Motion Status
SKF USA, Kulpsville, PA; 800/753-6234; skfusa.com
Sensor-bearing units are said to provide solutions to ascertain the precise motion status of rotating or axially traveling components in open and closed loop motion control systems. Bearings can record accurately number of revolutions, speed, direction of rotation, relative position/counting, and acceleration or deceleration, company says.

---
Slit to Narrow Widths
Independent Machine Co., Fairfield, NJ; 973/882-0060; independentusa.com
Custom unwind/slitter for narrow widths of PTFE and laminates is 12 in. wide. Modular machine works in-line with existing winding system. Slitter is driven by an AC vector drive with a speed range to 950 fpm.

---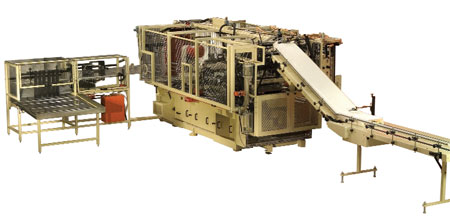 Preprint Convolute Containers
Paper Machinery Corp., Milwaukee, WI; 414/354-8050; papermc.com
The 1002P and 1300P (pictured) form preprinted convolute containers. Said to unite the graphic appeal of paperboard containers with the performance advantages of plastic. Printing is done on PP sidewall blanks prior to forming. Machinery then replicates the sequence of operations that go into making 2-pc paperboard cups. Sidewalls are totally sealed, rims are tucked and rolled, and bottoms are 360-deg double-sealed.

---
Don't Reposition Piles
Maxson Automatic Machinery Co. , Westerly, RI; 401/596-0162; maxsoncorp.com
Feature on precision sheeters avoids the secondary restacking of piles prior to feeding the skids into a printing press. Design allows operator to offset the tail end of the sheeted stock from the back edge of standard-sized skids. Vibrating back jogger system mounts at the end of delivery system and protrudes out over stacker's load table. By positioning standardized pallet against stacker's backstop, up to 4 in. offset of the pile, relative to the skid, can be achieved.

---
Differential Shaft is Redesigned
Convertech, Wharton, NJ; 973/328-1850; convertech.com
Company has re-engineered its differential shaft design to accommodate more advanced tension control and higher shaft speeds. Shaft reportedly will not wobble, slip, or leave dust on the cores and floor. User can run multiple width rolls on the same shaft, and each roll will always have the correct tension, company says.

---
Manage Ink In-Line
PAD Peripheral Advanced Design, Boucherville, QC, Canada; 800/465-7732; 450/655-7667; inkspec.com
Intelligent In-Line Sensor (IIS) ink management system solution integrates directly on the ink feed line and does not have to be installed on a bypass line. No sampling is necessary as measurements are taken continuously. Sensor has no moving parts and does not need any scheduled maintenance.

---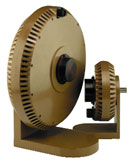 Motor is Smooth at Low Speeds
Bodine Electric Co. , Chicago, IL; 773/478-3515; bodine-electric.com
The e-Torq direct drive brushless DC servo motor employs an electromagnetic design said to improve efficiency, minimize size, and maximize torque. Reportedly, motor runs smoothly at very low speeds, and high torque capability allows the elimination of gearboxes and removes the risk of lubricant leaks.



---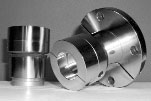 Tension Transducers are Rugged
Nireco America Corp. , Port Jervis, NY; 845/856-4053; nirecoamerica.com
Semiconductor strain gauge tension transducers are designed for maximum accuracy, versatility, and reliability. Said to be rugged with 360-deg overload protection, high sensitivity, low hysteresis, and excellent thermal and linearity characteristics. Sealed against damage caused by dust and moisture.

---
Perfs Create Oxygen Barrier
Zimmer Industries, Hawthorne, NJ; 800/225-0108; zimmerindustriesinc.com
Microperforating a single ply of material and laminating it to a nonperforated ply creates allows the economical creation of oxygen barrier perforations for packaging and other demanding applications, company reports. Company also says super-fine microperfs (to 300 teeth/in.) can be used to create "breathing" or venting applications on various plastics and other materials.

---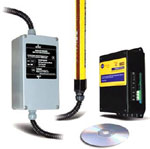 Network Static Control System
Ion Industrial, Windsor Locks, CT; 860/292-6847; ion.com
Virtual AC Intelligent Static Neutralizers can now can be integrated quickly and easily into a process control system over industrial networks to improve productivity and operator safety. New 8003-Fieldbus controller can be added to any Virtual AC Neutralizer to provide instant connectivity with different fieldbus networks. System will communicate with the host PLC and store production run records related to static control. Using interchangeable slave interface cards, 8003-Fieldbus controller is designed to adopt new communication protocols and variations as they are introduced.

---
Mount Die-Cutting Cylinders On-Press
Bunting Magnetics, Newton, KS; 800/835-2526; 316/284-2020; buntingmagnetics.com
X-treme Series magnetic die-cutting cylinders are machined from solid metal to resist deflection and are ground to extremely close tolerances. Cylinders allow on-press die mounting and enable printers to replace hard-tooled cylinders with economical flexible steel dies. Setups are said to be fast, and registration is precise with standard cylinder scribe lines or optional pins.

---
Laser Die-Cut with Speed
AB Graphic Intl. , Bridlington, E. Yorks, UK; +44 1262 671138; ab-graphic.com
With Intech, company offers the Sabre Extreme CO2 laser digital die-cutting system. Softplot software allows operator to either import or create the die line pattern, edit the die line pattern, and test the die line on a virtual machine before going to production. Twin CO2 lasers are said to provide fast cutting speeds and high quality. Includes laminar flow smoke control for efficient removal and collection of smoke and particulate waste.

---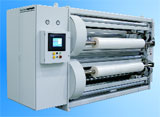 Wind Ten Rolls of Stretch Film
Macro Engineering & Technology, Mississauga, ON, Canada; 905/507-9000; macroeng.com
The Automax TCK250 stacked turret winder for stretch films produces multiple rolls on 3-in. cores to 12 in. dia. Can wind stretch film to 100 in. wide and is capable of winding ten 10-in.-wide rolls on each shaft for a total of 20 rolls/set. Shafts are cantilevered for quick roll unloading and core reloading. Capable of winding at 600 fpm with tensions as low as 0.25 lb/linear in.
PFFC-ASAP 412
---
Die-Cut Boards Quickly
Data Technology, Wilmington, MA; 800/331-5797; 987/694-0055; data-technology.com
With rotary die-cutting system, a 900-in. board can be set up and cut perfectly in 30 min, company says. System uses the LaserBlade process for making 4- and 6-pt cuts, reportedly allowing a wide cut to be achieved in a shorter time, using less power and causing minimal air pollution.

---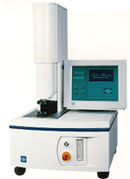 Tensile Tester Measures and Controls
Testing Machines, Ronkonkoma, NY; 631/439-5400; testingmachines.com
The Lab Master Z-Directional tensile tester determines internal bond strength to 113 kg with 4.5-gram resolution and ±0.02% full-scale accuracy. Position is measured and controlled with 0.1μm resolution and 0.2μm repeatability. Peak force is measured by applying a force in the z-direction until ply separation occurs. Curves are generated by thousands of data points/test to give insight into the material's properties.

---