Published: April 30, 2005, By PFFC staff
Substrates, Inks, Adhesives, Polymers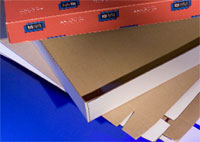 Coated Linerboard Runs Smoothly
Appleton, Appleton, WI; 920/734-9841; appletonideas.com
MoistureBloc for corrugated is a linerboard featuring an exclusive moisture barrier coating. Completely repulpable and 100% recyclable, product reportedly will run smoothly on existing converting equipment. Available in most standard linerboard weights ranging from 26#–69#.

---
Ink Provides Unique Imaging Process
ANI Printing Inks, Plymouth, MN; 800/328-7838; 763/559-5911; aninks.com
HolographINK Process (HIP) prints on a wide variety of substrates and reportedly eliminates the need for holographic substrate. Technology uses the flexographic process in combination with photopolymer printing plates to transfer desired image to the substrate with final UV curing ink. Patent-pending process has the ability to print holographic screen images, which allows the holographic image to appear in countless colors and areas.

---
Anti-Static Additive Offered
ADM Tronics Unlimited, Northvale, NJ; 201/767-6040; admtronics.com
Staticon 452 anti-static additive features what is said to be a unique polymeric structure to provide conductive properties in the liquid state. Can be used effectively as a stir-in additive to water-based adhesives, coatings, inks, resins, and more. Allows for rapid static dissipation in machine as well as a certain level of conductivity in the residual dried surface of the coated substrate. Basic pH of approximately 9 is suitable for most liquids in the neutral to high basic range.

---
Paper Offers "Green" Benefits
Smart Papers, Hamilton, OH; 513/869-5155; smartpapers.com
In an expansion of its Knightkote Matte line of premium coated papers, company introduces product featuring 30% post-consumer waste fibers. Also features 50% total recycled content. Company says printability has been upgraded, and paper can be used in traditional offset and digital printing equipment.

---
Anti-Fog Films Keep Food Fresh
Klöckner Pentaplast of America, Gordonsville, VA; 434/293-7718; kpfilms.com
Anti-fog agents in a new line of Pentafood APET films inhibit the formation of condensation inside a food package once it has been sealed. Said to be ideal for packaging refrigerated foods where clarity and product freshness are critical. Suited to f/f/s equipment, films reportedly have excellent rigidity, eliminating the problem of film stretching for consistent tracking on the forming line.

---
OPP Film has Enhanced Sealant
ExxonMobil Chemical Co. , Macedon, NY; 800/334-7987; oppfilms.com
Metallyte X-28 UCW-ES is a multilayer, cavitated, white OPP film with an enhanced sealant to provide leak-free seals and allow sealing through contamination. Designed specifically for fractional pack coffee applications, film combines the properties of metallized polyester and PE, creating a mono-web packaging solution. Can be surface printed and overlacquered and reportedly has an exceptional barrier to gases, flavors, and moisture.

---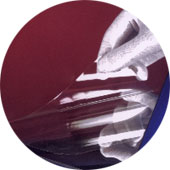 Release Coatings Leave No Residue
MPI Technologies, Winchester, MA; 888/MPI-8088; webmpi.com
Non-silicone release coatings are available on film and paper. Designed for applications in which a residue cannot be left behind that might contaminate a material or process. Offered on a variety of films and papers to 82 in. wide, coatings reportedly will not change the properties of an adhesive.



---
PSA Resists Aging, Humidity
National Adhesives, National Starch and Chemical Co., Bridgewater, NJ; 800/797-4992; nationalstarch.com
NACOR 38-070A water-borne PSA is a high-performance, high-solid base polymer that delivers moderate tack, high peel and shear, and excellent resistance to aging and humidity, company reports. Utilizes a new technology called ideal for use on paper, PET, vinyl, vinyl foam, and PE facestocks.

---
Tissue Softener Line Expands
Dow Corning Corp. , Midland, MI; 989/496-6000; dowcorning.com
Company announces three new topical treatments in the TM Series of surface-softening emulsions for tissue applications: TM-4011 silicone emulsion is said to give tissue manufacturers an economical way to add a silky or slippery feel to products; TM-4012 hydrophilically modified dispersion of silicone in water and TM-4060 hydrophilically modified silicone emulsion and reported to deliver a combination of softness and absorbency.

---
Films Suited for Microwaves
DuPont Teijin Films, Hopewell, VA; 800/635-4639; 804/530-9339; dupontteijinfilms.com
Mylar GL and GX polyester films are reported to offer protection providing excellent moisture, oxygen, odor, and flavor barriers that are retained across a wide range of temperature and humidity conditions. Company says films can be heated in the microwave and used with metal detectors; provide superior flex crack and pinhole resistance; and are printable and environmentally friendly.

---