Published: March 31, 2005, By PFFC staff
People & Places
At Flint Ink Corp., Ann Arbor, MI, H. Howard Flint II assumes the position of non-executive chairman of the board of directors; Dave Frescoln, president of Flint since 1992, is elected vice chairman and CEO; chief operating officer Linda Welty takes on the added role of president. David B. Flint will continue as executive VP.
At Adhesives Research, Glen Rock, PA, Robert Tsai, Ph.D., becomes technical director for the R&D Technical center in Singapore, and Patty Frey becomes operations manager. Sun Chemical relocates its global headquarters from Fort Lee, NJ, to a new 66,065-sq-ft facility in Parsippany, NJ, 30 miles west of New York City.

Oasis Alignment Services, Rochester, NH, names Joel Farnum regional manager and Nancy Langworthy account manager for the midwest office based in Appleton, WI.

Carol Royal is named nonwovens and paper sales manager at Parkinson Technologies, Woonsocket, RI. Also at Parkinson, the Marshall and Williams Plastics div. moves its Asia office to Room 24D, New Baohui Bldg., Nanyou Ave., Shenzhen, PR, China; +886 (0) 755-2606-7607.

Progressive Color Media, Ann Arbor, MI, a Flint Ink co., announces its executive leadership team: Diane Watt, president; Daniel Goodenow, director of sales and services; Fay Sommer, director of product development; Tony Ricketts, senior field service specialist; and Albert Johnson, senior sales specialist.

Werner Goeckel and Brian Heil will head ISRA Surface Vision, the new web inspection division at ISRA Vision, Darmstadt, Germany.

International exhibition organizer IIR, New York, NY, names Rachael Stroud marketing manager for Ipex 2006. Steve Willis takes over responsibility for European operations at Futec, Hemel Hempstead, UK.

Linda Keesee is promoted to regional sales manager for American Baler Co. , Bellevue, OH. She will be responsible for the central territory, including Ohio, Kentucky, and West Virginia, as well as directing the nationwide domestic accounts program.

Leslie Joseph Weil, former owner of American Envelope Co. (now Cenveo), died January 29 at the age of 85. EMA president Maynard Benjamin calls him "the father of the lined envelope," which he developed for Hallmark in the 1950s, according to the obituary in the Chicago Tribune.

Creo, Vancouver, BC, Canada, announces appointments to the Creo Americas management team as a result of the consolidation of North American operations that began in August 2004. Included are David J. O'Brien as VP of operations and finance and Filip Buyse as VP of sales.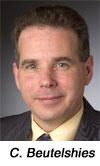 Valéron Strength Films, an ITW co., Houston, TX, adds Clint Beutelschies as sales and marketing manager.

Clopay Plastic Products Co. , Mason, OH, expands its New Business Development team, reports Nancy Eichstadt, director of new business development and marketing. Dr. David Bland becomes director of new business technology; Nicole Gerwe joins as associate scientist; and Chris Faust will serve as new business development, sales and marketing representative.

Brückner, Siegsdorf, Germany, opens an office in Moscow at 123610 Moscow, Krasnopresnenskaya nab., 12, Office 621, entrance 6; ph: +7 (0) 95-258 19 42.

Three company executives, Tom Kleeman, Bill Gillen, and Tom O'Hara, assume ownership of Spartanics, Rolling Meadows, IL.

The 100% Recycled Paperboard Alliance, Washington, DC, hires Paul J. Schutes as executive director.

Rayven, St. Paul, MN, adds Gregory S. Holub as a national sales representative; Michael Murphy is promoted to national accounts manager.

Bruno Dätwyler is named sales director at Polytype Converting, Fribourg, Switzerland.

RadTech, the Assn. of UV and EB Technology, Chevy Chase, MD, announces David Harbourne, Fusion UV Systems, as president. New board members include Tom Campbell, Campbell & Co.; Michael J. Dvorchak, Bayer MaterialScience; and Paul Mills, UVPowerhouse. Ronald Golden, UCB Surface Specialties, is elected incoming president for 2007. Maureen Waite, Sartomer Co., receives the 5th annual President's Award, given to members who have made significant contributions to RadTech and the advancement of UV/EB technology.

Ron Zessack is appointed manager of energy-curable products at Environmental Inks and Coatings Corp. , Morganton, NC.

Omet, Lecco, Italy, names Offlex Oy sole agency for its in-line rotary flexo presses in Finland.

Shuttleworth, Huntington, IN, promotes Breton Ranc to VP, technical operations.

Axon Corp. relocates to Walnut Creek Industrial Pk., 3080 Business Park Dr., Ste. 103, Raleigh, NC.

Peter P. Buckley is the new regional sales manager of the Northeast for Fortune Plastics, Old Saybrook, CT.

At Mohawk Paper Mills, Cohoes, NY, John O'Connor assumes the newly created position of senior VP, administration; Richard LaBonge becomes senior director of sales; and Lynn McCarthy is named district sales manager for the metropolitan New York/New Jersey region.

Rotec, a member of the Day Intl. Group headquartered in Ahaus-Ottenstein, Germany, names Pamarco Global Graphics exclusive distributor in the UK and Ireland.

GEW adds a 180-sq-m extension adjacent to its headquarters in South Nutfield, UK, to bring under one roof its 3D CAD and engineering departments.

Charles C. (Chad) Waldschmidt is appointed North America area director for Rhodia Engineering Plastics, Farmington Hills, MI.

Tresu Royse Mfg. Co. , Dallas, TX, signs on as a reseller of the graphic arts equipment of Nordson Corp., Amherst, OH.

Green Printing and Packaging, Lexington, NC, a sub. of Chesapeake Corp., appoints Terry Swade VP-manufacturing.

Ceramic Technologies, Houston, TX, is the North and South American authorized representative for the patented Zebra evaporator boats of Denki Kagaku Kogyo, Tokyo, Japan.

Celebrating 20 years of service to the industry is Water Ink Technologies, Lincolnton, NC.

At Scitex Vision America, Netanya, Israel, Steven Vanderburg becomes district sales manager for the southeastern US screen market, and Ray Hale is named district sales manager for digital presses and inks in the southwestern US.

FKI Logistex, St. Louis, MO, opens a new regional office in Mexico City, Mexico, at Av. Homero 1343-Piso 3o., Col. Los Morales, Sec. Palmas, 11540 Mexico, D.F., Mexico; ph: +52 55 5281 5376.

NDC Infrared Engineering, Irwindale, CA, names Simko S.A., San Martin, Argentina, its exclusive Systems Products distributor for that country.
Li Chen, Ph.D., joins Black Clawson, Fulton, NY, as mechanical sales engineer. He will work on production engineering orders and participate in business development efforts in the Far East.James Chesley is new customer service representative at the Kent, WA, sales warehouse of Anderson & Vreeland, Bryan, OH.

Corus L.P. Aluminum Rolled Products, Trois-Rivieres, QC, Canada, promotes Denis Hé to director, foil markets. Wayne Richter joins WS Packaging Group, Algoma, WI, as VP of R&D.

Fort Dearborn Co. , Niles, IL, appoints Timothy (Tim) Trahey chief financial officer.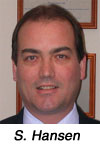 Beckhoff Automation, Minneapolis, MN, appoints Skip Hansen product manager of I/O systems.
Raflatac, Fletcher, NC, reports Christer Härkönen is now senior VP, UPM Rafsec, and a member of the Raflatac management team.
Jeff Gleason and Ray Sirochman will serve in technical sales at Meech USA, Norton, OH.
At Fusion UV Systems, Gaithersburg, MD, Chris Brandl becomes midwest regional sales manager, and John Clark is named regional sales manager for the newly formed southwest region.
Diamond Packaging, Rochester, NY, is recognized for the 4th year in a row as "Best of the Best" in the 2004 Best Workplace in America awards competition, sponsored by the Printing Industries of America and Graphic Arts Technical Foundation. The award recognizes graphic arts companies for outstanding human relations efforts in recruiting and retaining qualified staff.
Graphic Packaging Corp. , Marietta, GA, names Karl Christianson VP and resident manager of the West Monroe, LA, paper mill.
Hammer Lithograph Corp. , Rochester, NY, receives a Merit Award for management excellence in the 2004 Management Plus Awards Program sponsored by the National Assn. for Printing Leadership (NAPL), PFFC's sister publication American Printer, Compass Capital Partners, and MAN Roland.
---