Published: February 28, 2005, By Edited by Deborah Donberg
Covering the Full Spectrum of Industry News, Events & Activities
---
Part 1
| Part 2
---
CLOSINGS
IP Closes Facility
WILMINGTON, NC—International Paper reports the permanent closure of the Cape Fear Converting facility in Wilmington. IP cites the reduction in the amount of nonconforming product produced by the mills as well as a forecast of declining nonconforming product availability.
---
---
ACQUISITIONS
Michelman Adds Coatings
CINCINNATI, OH—Michelman reports the acquisition of all the technology and related water-based coating assets from the former joint venture Proman Coatings.
Proman will continue as small lots agent and distributor Michelman Performance Coatings in the UK. Chris Coyne, formerly with Proman, has taken a position with Michelman as senior account manager, Europe.
---
ESK Now Part of Ceradyne
COSTA MESA, CA—Ceradyne reports the acquisition of ESK from its previous parent, Wacker-Chemie.
Ceradyne has been working with Wacker Ceramics (ESK) for more than 33 years, says Joel Moskowitz, Ceradyne CEO, chairman of the board, and a founder, adding, "We are very excited about acquiring a world-class leader in non-oxide advanced technical ceramics for industrial applications."
---
---
AGREEMENTS
Vits Machines to Use Apex Rolls
HAPERT, THE NETHERLANDS—Apex Europe signed an exclusive contract German machine manufacturer Vits in the field of screen and metering rolls. According to the contract, all anilox and metering rolls used in the coating industry for Vits machines worldwide will be delivered by Apex through Vits, for new rolls as well as for the reconditioning of rolls.
---
---
ASSOCIATION NEWS
NPES Names Rep, Gets Grant
RESTON, VA—NPES The Assn. for Suppliers of Printing, Publishing and Converting Technologies has named Hamilton Terni Costa, president of AN Consulting, market representative in Brazil.
NPES also reports it has received a $180,000 matching grant from the US Dept. of Commerce's Market Development Cooperator Program for a three-year program to promote US exports and the benefits of American technology in India and South Asia.
---
---
NEW TECHNOLOGY
Eastman PET Breakthrough
KINGSPORT, TN—Eastman Chemical Co. announces IntegRex, described a breakthrough technology for the manufacture of PET resin.
The company will build a 350,000-metric-ton integrated PET manufacturing facility using the new technology at its existing site in Columbia, SC. Eastman's existing purified terephthalic acid facilities will be retrofitted using additional elements of IntegRex to supply intermediates for the expansion.
Eastman expects to receive patents on more than 100 process and product innovations surrounding this technology, which encompasses manufacturing process integration from paraxylene (PX) to PET.
---
---
EDUCATION
Cal Poly Seeks Funds
SAN LUIS OBISPO, CA—The Graphic Communication Dept. of California Polytechnic State Univ. is preparing to celebrate its 60th anniversary in 2006 with a $2.5 million fund drive.
Harvey Levenson, head of the department, says, "The Graphic Communications Department and the university want to make sure that the department is equipped to serve the printing industry for the next 60 years and beyond....We've already raised more than $620,000 and are well on our way to reaching our ...goal, but we need support in doing so."
Donations will be used for two different programs: a restricted fund to address the immediate needs of the department and an endowment for the department.
For more information contact Cal Poly at 805/756-1108 or e-mail This email address is being protected from spambots. You need JavaScript enabled to view it..
---
---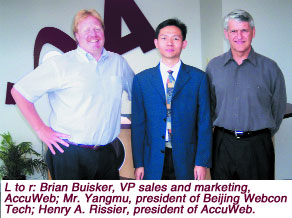 DISTRIBUTORS
AccuWeb Adds China Distributor
MADISON, WI—AccuWeb has signed a distribution agreement with Beijing Webcon Tech & Trading Co. (BWT), adding a link in its international supply chain for the company's web guide systems. Beijing Webcon Tech operates six offices and tech support centers throughout China.
After completing an intense training and quality control indoctrination program through AccuWeb, BWT will begin assembling the web guides for the Asian market. AccuWeb will continue to manufacture its proprietary components in Madison for all global distribution.
---
Ceramis Films Agent is Celplast
SCARBOROUGH, ON, CANADA—Celplast Metallized Products is now the exclusive North American agent/distributor for the full line of Ceramis transparent SiOx-coated, high-barrier films from Alcan Packaging.
Ceramis films are manufactured by the EB evaporation of silicon oxide onto PET, nylon, and OPP substrates, offering packaging solutions for the food, pharmaceutical, cosmetics, and high-tech industries.
---
---
EXPANSIONS
Tentering Expansion Announced
GORDONSVILLE, VA—Klöckner Pentaplast of America reports the expansion of tentering capacity for full-body shrink label films its Rural Retreat, VA, manufacturing facility. The expansion is expected to begin in July 2005.
The specialty shrink label films are used primarily for various full-body sleeves, bottle capsule (cap seal), tamper-evident bands, and multipack applications. Most are printed for highly decorated labels that provide food, beverage, dairy, and consumer products with 360-deg graphics.
---
---
SHOW NEWS
Print Seminars Expand
RESTON, VA—Print 05 & Converting 05 will partner with Seybold Seminars' newly created event, Seybold Chicago 2005, to offer additional educational sessions, reports organizer Graphic Arts Show Co. (GASC).
According to GASC president Regis Delmontagne, one reason for expanding the offerings is the increasing overlap among the technologies and tools used by package printers, commercial printers, and prepress operators.
"Attendees are increasingly concerned about technological advances and how they can be put to use to improve their business models", says Delmontagne. "The speed of this advancement calls for an increased focus on staff training and education to try and keep pace."
The Print 05 & Converting 05 show takes place September 9-15 at Chicago's McCormick Place.
For more information contact GASC at 703/264-7200 or visit gasc.org.
---
GOA Draws Crowds
Graphics of the Americas, held February 4–6 at the Miami Beach Convention Ctr., saw increased attendance by as much as 15% from last year's attendee list of 20,000. The show is produced by the Printing Assn. of Florida.
An improving economy may be an indicator of increased interest. With 500 exhibiting companies over 500,000 sq ft of exhibit space, GOA's global reach could be seen from the diversity of faces and languages from around the world.
One of the big successes of this year's show was the presence of Xplor Intl., which hosted a two-day conference program. Due to the program's success, Xplor recently announced it has rescheduled its Global Electronic Document Systems conference from November 6–10, 2005, in Orlando, FL, to co-locate with GOA 2006 in Miami Beach.
Also making a major impact at GOA was the new JDF pavilion. The pavilion, a combination of presentation theater and exhibits, featured three days of multi-vendor presentations and hands-on demonstrations designed to provide attendees with a clear understanding of the emerging standard.
Graphics of the Americas 2006 will be held Feb. 3–5, again at the Miami Beach Convention Ctr. For more information visit graphicsofthemaericas.com. For expanded coverage of this year's show, search our online archives.
---
---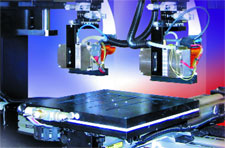 ALLIANCES
Teaming Up in Analysis System
SANTA ANA, CA—OptoSigma Corp., a global supplier of optics, optical coatings, opto-mechanical products, and custom solutions for emerging applications, reports an alliance with imaging Technology international Corp. (iTi), Boulder, CO. OptoSigma's X-Y precision stages, developed for applications in which exact positioning is critical, have been integrated into the newly developed Model XY Materials Deposition System (XYMDS) from iTi.
The system is for analyzing printing inks, electronic materials, and/or biological fluids. It also has been used in the process and development of UV-curable inks, conductive fluids, and jet-able adhesives.
---
---
Part 1 | Part 2
---