Published: January 31, 2005, By PFFC staff
Readers' Choice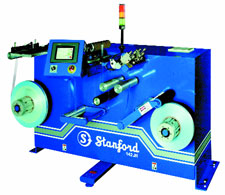 Narrow Web Rewinder for a Wide Range of Products
Stanford Products, Salem, IL; 618/548-2600; stanfordproductsllc.com
Designed for the narrow web market, Model 142 Jr. is capable of winding a wide range of products from light-gauge extensible films to p-s stock. Available in single-direction or reversible models, rewinder utilizes the latest in drive and control technology, reportedly making it capable of running extremely light tensions. With a web width to 10 in. (254 mm) and unwind/rewind diameters to 24 in. (610 mm), unit operates at speeds to 1,500 fpm (450 mpm) with roll weights to 200 lbs (90 kg). Powered by a two-motor AC vector drive system, machine features full touch screen control and option to add video inspection.
---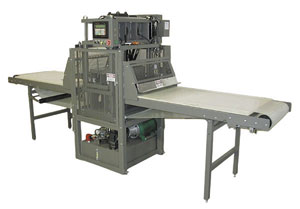 Die-Cut in Small Footprint
TTARP Industries; Buffalo, NY; 716/894-5613; ttarp.com
Compact 26x20-in. die-cutting press is suited for applications using low-density, nonmetallic materials, including plastic, foam, and paper. Available for manual or automatic operation, unit is said to offer the performance features of company's standard die-cutting systems in a lower-cost model with a smaller footprint. Standard features include drive pinch rollers, PLC-controlled indexing, adjustable cutting stroke and cutting pressure, and stops to determine accurate cutting depth.
---

New Material is Real Wood
Sheer Veneer, Waukesha, WI; 262/442-4086; sheerveneer.com
Sheer Veneer is an ultra-thin hardwood "paper" that is made from real hardwood but converts like paper. Made in a proprietary continuous web process, the wood is peeled from logs in a thickness range of 0.006–0.010, then laminated to one of several materials that support the wood and aid in its final converting. Current maximum roll width is 58-in. usable. The length of each roll is typically 500–700 lineal ft, though rolls can be butt-sliced to make a longer roll. Maple, cherry, birch, and aromatic cedar are standard species offered.
---
Release Coatings Overcome Anchorage and Clarity Problems
Dow Corning Corp., Midland, MI; 989/496-6000; dowcorning.com
Syl-Off 9102 release coating overcomes the anchorage and clarity problems previously encountered when applying thermal solventless silicone coatings to polyester films, manufacturer reports. Said to offer outstanding anchorage to unprimed and monolayer polyester, without clarity-reducing corona treatment. Company says Syl-Off 9150 release modifier gives the coating outstanding flexibility and makes it possible to achieve very high differentials.
---

Static Eliminators are Economical
Takk Industries, Cincinnati, OH; 800/792-8255; takk.com
Multi-line of passive static electricity elimination products is designed to provide economic solutions to static problems. New products include anti-static cord and brass fiber brush. No power is needed to operate the products; manufacturer says they all provide low-cost alternatives to many applications performed by electronic bar and blower products.
---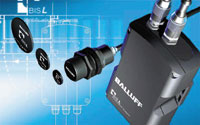 RFID System for Pallet Applications
Balluf, Florence, KY; 859/727-2200; balluf.com
BIS-L pallet RFID system combines long-range sensing performance and new, inexpensive data carriers to fit the needs of a range of pallet-based production operations. Said to be ideal for palletized assembly, system has a read-write range of 24–100 mm and is compatible with existing 125-kHz systems.
---
Slitter Reduces Edge Wrinkles
Battenfeld Gloucester, Gloucester, MA; 978/281-1800; bge.battenfeld.com
Blown film lines now feature trimless edge slitter station with a lower blade that faces upward toward the inner show. Film "walks" down the blade, pulling tension on the film and reportedly making a better cut. Dimpled Teflon-coated surface allows film to float better with less air volume, company says, preventing a "pillowing" effect above the blade holder. This will reduce edge wrinkles and allow better layflat control.
---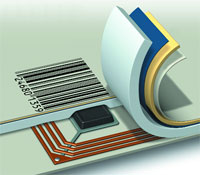 Substrate for RFID Labels
Appleton Papers, Appleton, WI; 920/734-9841; appletonideas.com
SmartStrate substrate for RFID labels improves reliability, durability, and efficiency; ensures accuracy of both visual and digital information; and expands suitability to a broader range of applications, company says. Substrate adds a unique multilayer protection system to the standard RFID label. Said to prevent mechanical damage, guards against electrostatic discharge, and provides a smooth surface for thermal printing.
---
Flexo Ink Offers Fast Cure
Deco-Chem, Mishawaka, IN; 800/348-7191; decochem.com
FLO flexographic ink reportedly offers fast cure, vivid colors, low dot grain, and ease of use. Runs on board, foil, paper, folding cartons, and film. Also available is 7969 UV flexo white, a super-opaque, pinhole-free, low-viscosity flexo ink said to adhere to many films. Solvent-resistant ink cures to 600 fpm. Overprint with UV ink or water-based inks.
---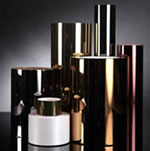 Clear Conductive Thin Films
Techni-Met, Windsor, CT; 860/688-2300; technimet.com
Clear conductive thin films are produced for clear heaters, EMI/RF shielding, electronic displays, touch screens and panels, and membrane switch product applications. The vacuum-sputtered ITO (indium tin oxide) depositions provide 4–500 ohm/sq electrically conductive surfaces on flexible polymeric substrates. Company offers a broad range of conductive metals depositions in custom-designed, precision single and multilayer thin film coatings on various substrates such as PET, polycarbonate and others with clear and matte finishes available in gauges of 1–7.5 mil and widths of 6–62 in. Maximum coating thickness is 5,000 Angstroms. Advanced thin films meet customers' demanding specifications, ensuring critical fitness for use requirements, company reports. It offers proprietary sputtering technology and full R&D, prototype, product development, and production capabilities.
---
---
Every other week
Find out what the buzz is all about! Sign up for quick product updates from PFFC's E-Clips®. Praised for its new product alerts, E-Clips® covers what's new ... hot ... and innovative. Click here to see a sample issue.
To subscribe to E-Clips®, click here.
---