Published: March 31, 2004, By Teresa Koltzenburg, Senior Editor
Envelope converter Western States is 96 this month, and its major supplier F.L. Smithe, hits the 100-year mark this year. How did they do it?
The secret of staying in business for 100 years is… Well, it isn't easy to quantify. Most executives at companies with this stamina can provide you with a list of reasons why they think their companies have survived a century — innovation, consistently meeting customer requirements, technology investment, employee loyalty, profitability, etc. But you very well might have heard those same reasons attributed by executives of formerly successful but now shuttered companies — before they closed, of course.
So what is the secret of converters like Western States Envelope — 96 years old this month — and OEMs like F.L. Smithe — the envelope-machinery manufacturer celebrating its 100th this year? Like I said, it isn't easy to measure. But a key part of these two companies' longevity secret seems to be one another.
The Commercial Printers' Cream
Western States Envelope was established in 1908, four years after F.L. Smithe began making its envelope-manufacturing machines in NYC (see sidebar). A family-owned envelope-converting operation started by George F. Moss, Western States Envelope and Label today operates — in addition to its headquarters in Butler, WI — envelope-making plants in Walbridge, OH; Erlanger, KY; Maplewood, MN; as well as a label-producing facility in Madison, WI.
The company still is chaired by a Moss family member, George F., the grandson of the founder, and like its original customer base made up mostly of commercial printers, Western States still counts on the commercial printing industry for a very big part of its business. "We're still focused on selling our product at the wholesale level to the printing industry," reports Western States president Mark Lemberger. "Ninety-five percent of our customer base is [comprised of] commercial printers and print brokers."
Lemberger, who has been with the envelope converter since 1976, reveals at least one reason why its customer base keeps coming back to Western States. "Our average customer is a very modest-sized commercial printer," he explains. "We carry a very complete inventory of converted envelope products; we have more than 1,600 SKUs in stock. Our fill rate is 97½ percent, so 85 percent of our orders in stock ship the same day."
He continues, "We've been a very reliable source for a broad range of items for printers to use, and it's enabled them not to have to keep a lot of inventories. They know, with a high degree of certainty, if they call us before 1:30 or 2:00 P.M. and need some standard, or even obscure, envelope item, there's a good chance we stock it for them, and we'll be able to ship the same day. So they don't really need to keep a lot of inventory. I think that's where we've really cemented ourselves with our customer base," says Lemberger.
In addition to its vast product offering and fast service, Western States also will accommodate custom-manufactured orders with absolutely no hesitancy. "We'll do virtually any quantity," Lemberger explains. "If a customer needs 500 custom-sized envelopes, we'll make them for them. If they need 15 million, we can do that, too."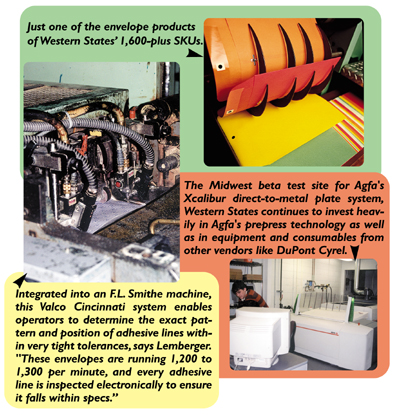 The Secret Ingredients
At the heart of Western States' secret for long-term success lies its non-cryptic approach to new technology implementation for envelope manufacturing. For that, the company always has relied on F.L. Smithe. According to Lemberger, Western States has utilized F.L. Smithe's envelope-making technology since its 1908 inception, and the relationship between the equipment manufacturer and the converter has served both well ever since.
"Our relationship with Smithe goes back a long way. In the last 15 or so years, as Smithe has come up with some dramatic technological improvements in envelope-converting equipment, we've been fortunate to be either the beta site or the first installation site of, I think, the last four new pieces of technology they've developed. We use that to our advantage," states Lemberger.
Overall (in its four envelope plants), Western States has invested in and operates about 70 pieces of F.L. Smithe envelope-converting equipment, says Lemberger. The converter has dedicated nearly 500,000 sq ft (approximately 300,000 sq ft of production and inventory space at its Butler headquarters alone) to its multi-operation envelope-manufacturing business. (Its label business operates in another 34,000 sq ft of space in Madison.)
The specific model line-up of Western States' F.L. Smithe-made envelope-converting machinery reads like a big bowl of alphabet soup. From BOEs, to RAs, to SWs, to the newly developed and most recently installed servo-driven SR, the converter seems to have invested in nearly every technology platform developed by the 100-year-old machinery maker.
Among the most impacting developments for the industry overall, says Lemberger, is F.L. Smithe's in-line flexo printing improvements to its machinery. "Smithe has really made some great strides for our industry. Twenty years ago, if it was anything other than a three-line return address in black ink on an envelope, you probably wouldn't attempt to do it in-line.
"Now, we do four-color process, in-line flexo on Smithe print units. Smithe has made dramatic progress in flexo-graphic envelope printing. For instance, they brought in things like reverse-angle doctor blade technology, and they've improved our ability to offer our customers enhanced multicolor printing that can be done in-line while you're performing several other converting functions," Lemberger reports. "It's very economical, and the quality has improved significantly because of Smithe innovations."
The Beta of Partners
As with its customers and with F.L. Smithe, Western States seems to have cultivated unique relationships with a few of its suppliers. In the recent past, Western States served as the Midwest beta test site for Agfa's Xcalibur thermal direct-to-metal plate platesetter. In fact, over the past seven years or so, Lemberger says the company has invested heavily (approximately a million-and-a-half dollars) in its three-shift prepress operation.
Most of the converter's necessary prepress work is done in Butler — via T1 lines when communicating with its other facilities — and the converter also utilizes other Agfa products, including software (Apogee) and prepress equipment (the Avantra).
Another supplier Western States teamed-up with for beta site testing is H&K Systems, a provider of inventory-management systems. According to Lemberger, the now fully rolled-out system has helped the company significantly, providing employees and customers with 100% real-time reporting of Western States' inventory.
So it seems innovation, consistently meeting customer requirements, technology investment — as well as key supplier relationships — are indeed prime ingredients for success.
Lemberger sums up, "Our 800 loyal employees, our lean manufacturing approach, and, certainly, our unique relationship with F.L. Smithe [are among] the things we can count as reasons for our longevity."
But, really, just how did this envelope company survive a century of depression, war, Internet "erosion," contaminated-mail issues, recession, and emerge successful and prosperous in the 21st century?
Lemberger provides the best answer: "We're responsive to our customers' needs. That's why some of the new technology we've purchased, like that from F.L. Smithe, is very important to us; it allows us to shorten our run lengths and compress our cycle times…. It's better than forcing our customers, if they want to get the best price, to have to buy a six-month supply of something. Now they can place their orders in synchronization with what their usages are."
---

If there's a master and commander of envelope-making equipment, F.L. Smithe certainly deserves the title. The Duncansville, PA-based OEM is the oldest and largest envelope-manufacturing company in North America. But the company doesn't deserve the title for its longevity alone. As envelope converters all over the Western Hemisphere know, F.L. Smithe has stayed at the envelope industry's helm not only because of its stamina but also because of the manufacturer's commitment to equipment innovation and design and its dedication to its customers' needs.
F.L. Smithe was established in 1904 when Ferdinand L. Smithe built his first Champion envelope machine in a small machine shop on 23rd St. in New York City. His machines, known as "plunger-style" envelope machines, soon made other folding machines obsolete.
Though the company moved from NYC to central Pennsylvania in 1966, the business continues to be family owned and operated today, an entire century later.
Over the years, the machinery manufacturer has endured much — the Depression, wars, recessions, market erosion, the merger-and-acquisition "craze" — yet the company has continued to invest and incorporate the newest, most advanced technology into its machines.
Much of that cutting-edge design, according to F.L. Smithe VP Larry L. Claton, is due to converters like Western States. "Their requirements have really been a focus for us. It also provides one of the best tests for our machines. We can do a lot on the shop floor, but the real test is to get it into the client because they will quickly point out what needs to be changed or added."
Today, F.L. Smithe makes its envelope-converting equipment in its 180,000-sq-ft plant located "right in the heart of the Allegheny Mountains," Claton points out. The OEM employs approximately 300 at the plant, to whom F.L. Smithe credits its 100-year staying power. "Our long-term success is directly attributable to every member of our skilled team of engineers, sales personnel, machinists, assemblers, and administrative personnel," states a company release.
The OEM also recently put another 25 years of innovation and development for the converting industry under its belt. In early March, F.L. Smithe acquired all the assets of Montreal, QC, Canada-based Aquaflex. Combined, F.L. Smithe and Aquaflex — manufacturer of narrow web presses — "have more than 125 years of experience building high-end, web-based converting equipment," states Smithe's release about the acquisition.
Notes F. L. Smithe president Edgar Smithe, "We're very excited to complete this transaction on the eve of our 100th anniversary, as this allows us to diversify into the label and flexible packaging markets. Aquaflex makes an excellent product that will complement our line nicely. We look forward to building upon both companies' histories — offering the highest quality products in our respective markets."
And when asked why he thinks F.L. Smithe has survived for a century, VP Larry Claton points to the family value-oriented way in which the company has operated for its duration. "It's an industry that has always prided itself on friendships, integrity, and service. These characteristics, I think, have provided the background and the structure of our success and our customers' successes."
So PFFC (which started its long life as The Envelope Industry back in 1927), Western States, and likely all of its customers, give a grand salute to F.L. Smithe: Congratulations on 100 years of success, and here's to 100 more!
---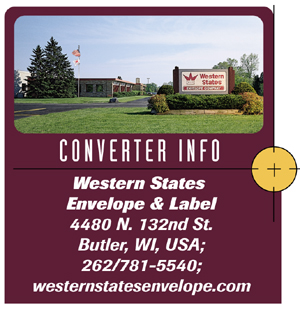 WESTERN STATES' TOOLS of the TRADE
In-house sheeter:
Strachan Henshaw
Ink mixer and pigments:
Braden Sutphin
Paper:
International Paper, Fraser, Glatfelter, Weyerhaeuser
Adhesive:
National Starch, H.B. Fuller, Henkel
Off-line adhesive equipment:
VerMehren Engineering
Envelope window-film:
Multi-Plastics
Die-cutters:
F.L. Smithe, Hobbs
Dies:
Chicago Die Cutting, Best Cutting Die, Marathon Cutting Die, Windy City Cutting Die
Off-line offset press:
Halm Industries
Flexo platemaker:
DuPont Cyrel's Fast system
Adhesive inspection equipment:
Valco Cincinnati
---
SUPPLIER INFO
F.L. Smithe Machine Co. Inc.; flsmithe.com
Agfa Corp.; agfa.com
Halm Industries Co.; halm.com
Valco Cincinnati; valcocincinnatiinc.com
Strachan Henshaw Machinery; 847/956-6727
Braden Sutphin Ink Co.; bsink.com
VerMehren Engineering; vmecorp.com
International Paper; internationalpaper.com
Weyerhaeuser; weyerhaeuser.com
Glatfelter; glatfelter.com
Nexfor Fraser Papers; fraserpapers.com
Chicago Cutting Die; chicagocuttingdie.com
Best Cutting Die; bestcuttingdie.com
Marathon Cutting Die; 847/398-5165
Windy City Cutting Die Inc.; 630/521-9410
H.B. Fuller Co.; hbfuller.com
National Adhesives, a div. of the National Starch and Chemical Co.; nationalstarch.com
Henkel; henkel.com
Multi-Plastics; multi-plastics.com
DuPont Cyrel; dupont.com/cyrel
H&K Systems; hksystems.com
---