Published: December 28, 2011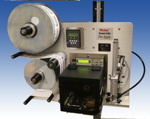 ARLINGTON HTS., IL | Weber Packaging Solutions (formerly Weber Marking Systems) introduces the Model 4300 Pro-Apply label printer-applicator, an in-line unit said to merge economy with the functionality often associated with higher- production labeling equipment.
Unit, with a selection of thermal/thermal-transfer print engines, prints 203-, 300-, or 600-dpi text bar codes and graphic images at speeds to 16 in./sec. It will dispense labels to 6 in. wide and 6 in. long.
Standard features include durable anodized aluminum construction, an integrated user interface with LCD display, multiple inputs/outputs to facilitate the use of optional control and/or zero-downtime configuration, and stepper-driven rewind for precise control.