Published: December 27, 2011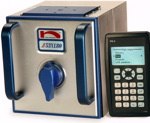 DOWNERS GROVE, IL | Norwood Marking Systems is offering the 53XL thermal transfer printer, said to provide both economy and high performance. Features the largest print area of company's 53 family and is capable of printing GS1 barcodes for track-and-trace and electronic pedigree serialization.
Printer can achieve a print area to 2 x 3.1 in. and is available in intermittent motion for easy integration with a wide range of host equipment. System includes company's JDS5 program, the latest generation of full-featured label design software.
Two-component design is said to minimize space requirements and improve reliability with a single connection point.