Published: November 11, 2011
Industry forum identifies growth areas, especially in China and India, as well as challenges due to environmental issues.
Sustainability, raw material costs, and the relative use of paper- and film-based liners (http://pffc-online.com/search?searchword=release+liner) were the topics that characterized the annual AWA Label Release Liner Industry Seminar (http://www.awa-bv.com). Held alternately in Europe and the US prior to the Labelexpo (http://www.labelexpo-europe.com) exhibition, this year's event took place in Brussels, Belgium, and attracted more than 80 participants from the full breadth of the label release liner supply chain, from end-users and label converters to raw material suppliers, laminators, equipment manufacturers, and recyclers.
Opening the proceedings, Corey M. Reardon (http://www.linkedin.com/pub/corey-reardon/0/765/357 ), president and CEO of AWA Alexander Watson Assoc. (http://www.awa-bv.com), reviewed the current market for release liner on pressure-sensitive (p-s) label stock (http://pffc-online.com/search?searchword=face+stock) , a market that, he said, continues to dominate global release liner demand with a 51% share of total usage (see Figure 1).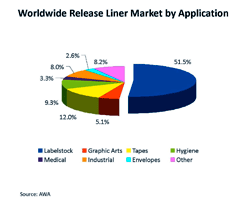 "Growth is slowing worldwide, however, to about 4%," says Reardon, "with only China and India showing high CAGR [compound annual growth rate] prospects (9.24% and 11.53% respectively) in the medium term. Competition to pressure-sensitive technology from other labeling formats (see Figure 2) and flexible packaging (http://pffc-online.com/flexpack/), as well as the overall challenges regarding environmental/sustainability (search?searchword=green+converting&ord=d&cat= ) issues, together represent tangible threats." Despite these challenges, AWA's research projects consistent growth for release liner p-s labeling in the medium term.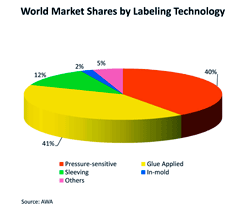 Film Liner Focus
While paper release base still dominates across all market segments, especially p-s label stock, annual demand for film-based label stocks is growing, Reardon says, "at multiples of that for paper-based label stocks." The growing interest in film liner is driven by its characteristic strength and smoothness, which deliver high performance on press and on the label application line.
Reardon singled out a major emerging trend in the label market's infrastructure: the growing popularity of in-line silicone coating and lamination (http://pffc-online.com/coat_lam/) of label stocks alongside the printing (http://pffc-online.com/print/), die-cutting (http://pffc-online.com/die_cut/) , and matrix-stripping (search?searchword=Matrix+Removal&ord=d&cat=) processes.
Market Dynamics
Some of the other label market trends highlighted in Reardon's presentation were the continuing control of market dynamics by the major retailers; shorter, more frequent label runs and shorter lead times; reduced inventory levels; more frequent changes in design/branding and changing/reducing product life cycles; and the need for cost transparency on the part of label suppliers--a key requirement for the major retailers and brand owners.
A Global Perspective
Next on the agenda was a label producer's view of the world of release liners provided by Kari Virtanan, business development director of CCL Label (http://www.ccllabel.com), who presented a particularly detailed view of the label release liner market geographically and by end use. In Europe, he confirmed, paper--particularly glassine--dominates, as it does in Canada and Mexico, but in the US, polyethylene terephthalate (PET) is much in evidence, with calendered kraft paper also in common use. In Asia and South America, paper remains the preferred release base. Wherever they are used, PET film liners are now thinner than ever, and they present practical challenges for press minders in many areas, including die-cutting, web tensioning (http://pffc-online.com/web_handling/tension/), ghosting, embossing (search?searchword=embossing&ord=d&cat=), and static electricity (http://pffc-online.com/surface_prep/static_elimination/).
CCL's opinion is that PET liners are indeed the future, but they are now as thin as is technically feasible for everyone (including the die manufacturers), and any future developments must be able to employ the current installed base of label manufacturing/application equipment. Sustainability and recycling initiatives also will be future market drivers.
Why Such Emphasis on Post-Consumer Waste?
An Vossen, manager of Plarebel, the Belgium national recycling association for plastics (http://www.epro-plasticsrecycling.org/c_19_1.html), went on to provide an update on the whole field of packaging waste legislation, and asked why, in general, we concentrate on post-consumer waste collection--a particularly complex and diverse waste collection level--when it is much easier to sort and differentiate materials at levels further up the supply chain. This is certainly true for p-s label stock.
Paper vs. Film: Life Cycle Analysis
Continuing on the theme of recycling and sustainability, Anna Wessman, VP, sustainability, at Ahlstrom (http://www.ahlstrom.com/en/Pages/default.aspx), presented the life cycle assessment of specialty paper versus film conducted by the company with the PaperImpact (http://www.paperimpact.org) organization. She demonstrated that, in most instances, paper's credentials are superior to those of film. Competition for land (sustainably managed forests represent an excellent carbon sink but also make strong demands on land availability) and the need to reduce the impact on land eutrophication with effluent water are the paper industry's main drawbacks.
A panel discussion on paper versus plastic, supply dynamics, and growth drivers followed, moderated by Reardon. Panelists representing the lobby for paper were Marko Haveri (http://fi.linkedin.com/pub/marko-haveri/1/a5b/a95 ) from UPM-Kymmene (http://www.upm.com) and Anna Wessman, Ahlstrom. Film lobbyists were Bill Wells of Mitsubishi Polyester Film (http://www.m-petfilm.com ) and James Godden (http://uk.linkedin.com/in/jamesgodden), Polyplex (http://www.polyplex.com). The debate about the products' relative merits continued, but the outcome of the discussion confirmed that, overall, the label release liner industry's long-term concern is the raft of impending packaging waste legislation and the possibility that release liner may be declared (across Europe at least) to be packaging waste, and therefore subject to a punitive financial levy.
Silicone Status
Silicones are as central to label release liner today as release base, as Hardi Döhler, innovation manager at Evonik-Goldschmidt, (http://corporate.evonik.com/en/company/locations/europe/Pages/default.aspx) , showed. "Silicone release coatings provide very low surface tension, a highly flexible backbone, and extreme freedom of rotation," he said. He described how current radiation-cured (search?searchword=Curing&ord=d&cat=) silicones are meeting the market's needs for good laminate aging properties and the influence of silicone transfer on adhesive properties, especially in terms of peel and loop tack.
Ultra-Thin Film Label Stock
Niall Moloney (http://nl.linkedin.com/pub/niall-moloney/2/480/81a), business development director for Avery Dennison Label and Packaging Materials Europe (http://www.europe.fasson.com ), detailed a film label stock innovation initiative, Avery Dennison ThinStream (http://www.europe.fasson.com/__c125670e00297de0.nsf/B/DRAN-8KUJYS?OpenDocument&UL=&Reloaded=1) , which enables the successful die-cutting of a thin film facestock on an ultra-thin 12-micron film. The initiative, involving the use of a special cold die unit, is being commercialized in partnership with Gallus, (http://www.gallus-group.com/en/gallus.aspx) and involves in-line delamination of the facestock, die-cutting, and relamination.
State-of-the-Art Label Application
Applying p-s labels was the next topic on the agenda. Udo Weusthoff, sales director, labelling technology, of Krones (http://www.krones.com/en/), whose high-volume labelling machines today span the world's fast-moving consumer goods markets, particularly food and beverage and personal care products. Their machines can combine stations for both p-s and cold glue labels; and machines handling linerless p-s labels are also on offer today. "Linerless is a prime trend," said Weusthoff, "and we know we can handle it!"
Industry Recycling Initiatives
Delegates then heard from the proponents of two recycling concepts in the area of glassine liner recycling developed by and for the label industry. Haveri (UPM Kymmene Fine & Specialty Papers) outlined the new program, developed in conjunction with French paper recycling specialists Vertaris, (http://www.vertaris.eu/index.php?_lang=GB) for the collection of liner waste across a broad area of Europe and closed-loop recycling to new paper manufacturing. Petri Tani (http://fi.linkedin.com/pub/petri-tani/8/b6b/a02), president, Cycle4Green, (http://www.c4g.fi/) revisited the drivers for liner recycling, including high waste tipping fees, the need to reduce manufacturing and packaging waste, and legislation. He underlined the need to scale up the volume of recycling to a level in which the value of the recycled goods created can outweigh the recycling costs. Not only that: "A 10%-15% reduction in carbon footprint can be achieved when you recycle 50,000 tonnes of release waste," he said.
Linerless Labels
Linerless labels are the prime focus for UK-based Catchpoint Ltd. (http://www.catchpointlabels.com/), and business development manager Mike Cooper showed how far the technology has advanced in recent years and how much can be achieved now in terms of high quality label results, even involving shaped (not butt-cut) labels. Now there is considerable interest in the linerless concept in both the cost-saving and the sustainability lobbies.
A Label Printer's Wish List
Eric White, managing director of Skanem Scandinavia, (http://www.skanem.com/) ended the presentations with a label printer's "wish list" for the provision of p-s label stock. He asked that any supply chain innovations take into account the printer's needs and any possible additional costs, e.g., new dies in the case of thinner materials. He asked, too, that release liner be available in a limited range of standard sizes. He observed that the industry still needs to develop a film liner at an acceptable cost and environmental profile, and finally added that "the next step in the development should be a linerless solution."
Corey Reardon closed the formal proceedings with thanks to the seminar's sponsors, including platinum sponsors UPM and Evonik Industries and gold sponsors Ahlstrom, Mitsubishi, Polyplex, and Siliconature; (http://www.siliconature.com/ ) and the day ended with cocktails, courtesy of Evonik Industries and UPM, as an opportunity for delegates and speakers to network prior to attending Labelexpo.
The AWA Global Release Liner Industry Conference and Exhibition 2012 will be held in Amsterdam, The Netherlands, February 22-23. For more information visit http://www.awa-bv.com.