Published: October 28, 2011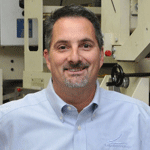 MERCED, CA | Label Technology Inc. has named David Bankson as its new president. Bankson, VP of research and development, will succeed his father, John Bankson, who will remain as CEO and chairman of the board.
The announcement was made as part of the company's 25th anniversary celebration. Founded by the father and son team in 1986 with a single 4 in., 3-color flexographic press, Label Technology has grown to more than $32 million in sales with multinational customers in a wide range of markets, including food processing, cosmetic, and nutraceutical.
"It is fitting that Dave's promotion to president is announced at the same time as our 25th anniversary since Dave has been an integral part of Label Technology's growth," explains John Bankson. "From an 18-year-old running a press to his role today as a respected expert in flexographic printing, Dave has always pursued excellence. I know he will continue to do so in his new position."
Dave Bankson says, "It is a terrific honor to be given the opportunity to lead such a great company. I look forward to continued growth of Label Technology and to providing high quality, innovative label and flexible packaging solutions for our customers."
The company's anniversary celebrated the contribution of each of Label Technology's employee-owners and highlighted major company milestones including the installation of new presses, first industry awards, landing on the Inc. 500 Fastest Growing Companies list, and releasing innovative new products.