Published: November 01, 2002, By AWA Alexander Watson Assoc.
---
Part 1 | Part 2 | Part 3 | Part 4 | Part 5
---
Disposables demand will grow, but on a changing base.
North American demand for release liners for healthcare and medical applications is expected to grow 3.5% during 2002, from 760 million sq m in 2001. Together these applications make up the fourth largest segment—and one that continues to benefit from increasing demand and continuing innovation. Key requirements are often a fiber-free surface, the ability to withstand sterilization (ETOX or gamma radiation), FDA approval, and sometimes a thermo-formable capability. Film liners can satisfy many of these requirements. Many of the liners used are silicone coated, but other options are polyethylene-coated papers or embossed polyvinyl chloride or PE films without a silicone release coating.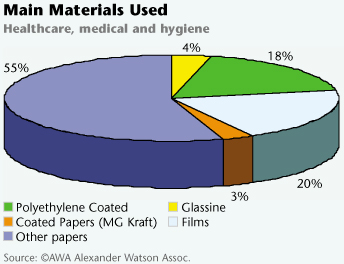 Liner Material and Applications
Film liners represent a 20% share of the market at 143 million sq m. They offer the greatest opportunity for growth. PE, polyester, and polypropylene all are used, and PE usage is forecast to grow by the greatest percentage. A mix of paper liners makes up the remaining 80% of the market.
The majority of liners actually are featured on final products as a protective backing for a pressure-sensitive adhesive. However, a high proportion are used for film, foam, and adhesive casting or processing during manufacture. Material waste, particularly in the conversion of die-cut products such as ostomy pouches, can be high.
Market Structure
The market is served by a large supplier base, including custom coaters supplying large multinational healthcare and medical product producers. The majority of liners are supplied by commercial silicone coating companies. Many adhesive coating companies have developed a specialized market "know how" that extends well beyond the boundaries of self-adhesive technology into the realms of medical science.
Some of these supplier companies also extend their activities into the manufacture of the final converted product. Increasingly, the trend is toward global product manufacturers in the medical and healthcare markets. Many companies also specialize in just a few products of low volume but high value, such as single-use medical transducers and transdermal drug delivery patches. Today's trend toward non-invasive surgery and medication is driving growth in this sector.
The Hygiene, Medical, and OTC Personal Care Markets
The hygiene market is the major segment in the total healthcare and medical market, representing about 79% of release liner usage, mostly papers. Healthy growth in this sector is expected to continue in response to demographic factors such as population increase through immigration, greater growth in the senior citizen age group (the aging baby boomer population), the growing importance of personal care, and forecasted modest birth rate gains.
In the medical market, three major segments use a self-adhesive laminate featuring a separate silicone-coated release liner: wound care dressings, surgical drapes, and medical devices. Of release liner materials used in medical applications, 49% are films.
Wound care represents the largest single usage, embraces a variety of release liner types, and is a focus for innovation as clinical healing techniques evolve. Growth is strong in this market. In the stable retail/over-the-counter (OTC) market, demand for wound care dressings and similar products remains anchored on "traditional" healing methods. Only demographic factors will create growth here. Film liners are an increasingly popular choice for hospital and retail products.
Drapes for use in surgical procedures require an adhesive-coated edge strip, protected by a liner. Industry sources identify 200 different "sets" of drapes, with 6–7 "universal" sets meeting the majority of requirements. The function of the release liner is basic, so the choice is typically a lower-cost, silicone-coated, bleached kraft paper. Other tape applications are in the manufacture of components for devices, using double-sided tapes, foams, or transfer adhesives.
Applications on disposal medical devices include ostomy pouches, specialty bandages, medicated skin patches, and transdermal drug delivery systems. In many applications, the release liner of choice is either an embossed film or a PE-coated paper. As single-use medical disposables become a global standard for hygiene and containment of post-procedure infections, they are becoming the focus of global trading, a factor that may affect future manufacturing strategies.
It should be noted that both stoma care products and surgical drapes are expected to experience reduced demand for release liners in response to the trend toward less invasive surgery.
Personal care products that utilize the technologies developed for the ethical medical market are today a feature of the retail market. Examples are cosmetic patches: acne, moisturizing, and nose pore strips and anti-wrinkle pads. Other stick-to-skin OTC applications include allergy-testing patches and foot-care products.
The Future
Release liners have a finite—but critical—role to play in these markets and represent a major segment. Opportunities for increased volumes are particularly strong for film liners, as in other market sectors. Demand for medical disposables is forecast to grow overall but on a changing product base, as medical science develops new techniques that require different care regimes.
The market for personal care products such as facial strips is expected to grow in parallel: The high unit cost per product is not important for such small-pack retail products.
Suppliers to makers of healthcare and medical disposables are expected to develop a knowledge base outside traditional industry boundaries that will enable them to develop a competitive advantage.
Globalization is affecting the North American market. An expanding base of multinationals at all levels of the value chain is a fact of life: As North American labor and other costs increase and competition intensifies, manufacturers look to other geographic locations to reduce manufacturing costs—and ultimately maintain their profitability.
---
North American Market Is Studied
The North American release liners market, with particular reference to the self-adhesive industry, is profiled in detail in a new research study from AWA Alexander Watson Assoc. Covering both silicone-coated papers and films, the report examines the subject from an industry perspective, assessing volume data and providing a detailed market segmentation. Setting its content within the context of global market developments likely to impact trading and commercial activity, the report outlines material trends and the changing structure of the business.
After assessing demand, key demand influences and drivers, and the future demand outlook, the report moves on to document the self-adhesive market segments served by release liners, the non-self-adhesive market segments, and material trends. Raw material prices and environmental issues also are discussed in the context of the materials used for release liners. The structure of the North American release liners market and trends in its capacity are discussed in detail over the entire value chain—from raw material suppliers, paper producers, and film manufacturers to silicone suppliers and commercial silicone coaters.
The report concludes with individual company profiles on major industry players, including Douglas Hanson, Eastern Fine, Loparex, and Wausau-Mosinee, and series of appendices that provide economic indicators.
For more information contact AWA Alexander Watson Assoc., Box 69035, 1060 CA Amsterdam, The Netherlands; +31 20 676 20 69; awa-bv.com.
---
---
Part 1 | Part 2 | Part 3 | Part 4 | Part 5
---