Published: November 01, 2002, By AWA Alexander Watson Associates
---
Part 1 | Part 2 | Part 3 | Part 4 | Part 5
---
To view this special report as a PDF, click the link below:
---
Wanted: A Better Knowledge Base
A leading specialty converter explains why we need more education on release liners.
By Ann Hirst-Smith AWA Alexander Watson Assoc.

Suzanne Zaccone, past president of Tag & Label Manufacturers Institute (TLMI) and president of Graphic Solutions Inc., spoke at the recent North American Release Liner Conference organized by AWA Conferences. Her topic was "Release Liner Applications from a User's Viewpoint," and her message was unequivocal: "Converters are not as educated as they should be regarding liners. And their education, in my opinion, is key to working at solving problems at the converter and end-user level."
Zaccone came to this conclusion following a series of interviews with her own production staff and managers and with about 30 TLMI converter members, in which she asked for input on the challenges they have faced both in converting self-adhesive laminates and in working with their customers, the end-users.
She says, "Even though the liner is thrown away, converters believe it is as critical to the overall performance of the end product as the material and inks that provide the message. Good die-cutting and stripping are heavily dependant upon the ability to cut the face and adhesive cleanly without nicking the surface of the liner. Having a very uniform, dense surface (the anvil effect) to cut against is critical. The release level is also critical to good converting and dispensing, and building good silicone holdout into the liner is paramount. Consistency of release to a converter and an end-user is essential: low release can be as bad as high release."
Sticky Situations
Many problems faced by converters today are the result of their end-user customers' demands for lower-cost labels—and their own efforts to replace high-performance laminates with lower-cost constructions that simply cannot meet the die-cutting and stripping criteria. Such compromises only can be achieved successfully from a good knowledge base—and as far as release liners are concerned, converters do not have that.
Zaccone cited a number of instances of release liner "problems" that resulted in product failure, and in some cases shut down packaging lines for days. Solving the problem on hand can be a challenge in itself, due to the complicated nature of the self-adhesive laminate—it is not always apparent to a converter where the problem lies—and identifying the cause can involve the laminator, release liner supplier, and even their suppliers. It can be a major cost to the converter, since there is a trend toward end-users levying fines on suppliers responsible for downtime on production lines, as well as the cost of reprinting or re-converting the job.
However, this is not the main cause for concern: Large end-user companies have a choice in the labeling or product decoration technologies they employ, and any major or recurring failure in self-adhesive label performance could lead them to switch. Today, there are plenty of alternatives to the "traditional" self-adhesive laminate: direct print, linerless labels, shrink sleeves, and in-mold.
Two of the major technical problems that were highlighted by Zaccone will be familiar to readers: silicone skip (resulting in poor label dispensing from the liner), and its opposite, over-coating of silicone (resulting in label movement on the web, poor converting, and poor dispensing). Several converters no longer specify anything other than polyester liners for high-speed labeling applications; and when, for any reason, polyester liners are unsuitable, converters increasingly are specifying glassine for its enhanced die-cutting, stripping, and application properties compared to super-calendered kraft.
The actual silicone system employed on a liner is also something of a mystery—but essential if a converter is to make an informed decision on the laminate required for a particular application. The attributes of the various systems are completely different—but again, the industry makes it difficult for the converter to compare them, since no two companies use the same testing and measurement methods. Says Zaccone, "The same size, width, angle, and adhesive should be used to test all liners, regardless of supplier. A good plan of attack would be to develop industry standards."
Collaboration and Communication
Zaccone says her company, Graphic Solutions Inc., likes the challenge of "something strange, challenging, or untried," and in addition to self-adhesive labels, converts aluminum nameplates, polycarbonate panels, PCBs, electroluminescent lamps, RFID antennae, and thin and flexible batteries. Many of these are leading-edge technologies, and she says, "the ultimate success of these seemingly different challenges hinges on collaboration and communication." She extrapolates this concept across the whole of the supply chain and emphasizes the need for converters to be able to see "the big picture" in order to do their jobs to their own satisfaction—and that of their customers.
Her message to the self-adhesives industry is clear: "If the silicone liner supplier, adhesive supplier, material supplier, converter, and end-user work closely together, ask a lot of questions, and develop specifications that meet everyone's requirements and abilities, then everyone wins."
Editor's Note: AWA Conferences' first North American release liner conference was held September 9 at the Hyatt Rosemont Hotel in Chicago, IL. The program attracted good attendance and contained something of interest for every level of the value chain. A two-and-a-half day global release liner conference is scheduled for May 1–3, 2003, at Hilton Head, SC.
In this special report:
---
Label Stock Liners: Issues & Trends
Some pointers from the recent AWA North American Release Liner Conference.
The self-adhesive label stock market is changing in response to the purchasers' increasing demands for product innovation and higher levels of service, without any increase in costs. To maintain profitability, paper and film manufacturers, self-adhesive laminators, and converters are realigning in the face of raw material price increases they cannot pass on and heavy pressure on margins.
Those in the middle of the value chain in the release liner market are experiencing pressures, too, and it is here there will be a major focus for change over the next five years as consolidation—already well established at raw material and silicone coating levels—takes hold. Price pressures are accentuated by the high levels of capacity available in the silicone coating market: In-house coaters currently are using only 55% of capacity, commercial coaters 65%. As state-of-the-art conversion machinery comes onstream, old capacity is not being "retired"—compounding the problem.
At the recent North American Release Liners Conference in Chicago, Corey M. Reardon, principal of AWA Conferences, had strong words of caution to the release liner manufacturers. "In this business environment, the prime need is to drive down costs and not margins in order to maintain a competitive long-term pricing structure that will enable you to remain in business," he said.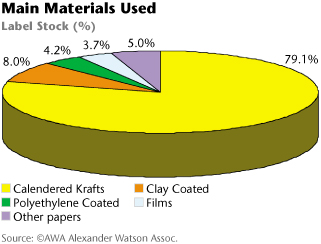 Film Liners
Film release liners represent the most dynamic sector of the release liners market today. While polyvinyl chloride, polyester (PET), polypropylene, and polystyrene all are used, it is the PET and polyethylene (PE) films—high-density PE, low-density PE, linear low-density PE—that are showing the greatest growth. The films market is, however, also experiencing overcapacity, the effects of globalization, and changing competitive advantages due to energy costs. While supply/demand balance is forecast for 2003–2004, the tight resin market is expected to mean higher prices.
Where release liner performance is a critical factor—especially for high-speed label application—films still must remain the ultimate choice. With around 55% of the world's consumption of film release liners concentrated in self-adhesive label stock, they demonstrate exceptional performance characteristics in terms of adhesive coat weight control, the layflat and consistency of the web, print and converting quality, and dispensing properties. Manufacturers of film release liners are expected to continue to develop market-led and research-driven specialty product streams, both for polymer technology and for coating technology. Average annual growth in film liners is 8%–10%.
Paper Liners
There are still enormous opportunities for paper-based liners. Growth in North America from 1997–2001 showed a compound annual growth rate of 4%, and 2002 growth is forecast at between 2% and 4%.
North America's preference for super-calendered kraft (SCK) liners slowly is being eroded by glassines, which offer a more comprehensive range of performance characteristics for high-speed label conversion and application. SCK still remains the cost leader, and any product innovation should not jeopardize that advantage. For lamination to film facestocks, PE-coated krafts represent an alternative to film.
Coating and Converting Issues
As new silicone technologies, coating enhancements, and converting standards develop, release base performance is becoming an increasing focus—whether paper or film. High-speed silicone coating has made misting on the production line a major issue in coating, since it can affect both conversion and dispensing performance adversely.
Release Liner as Packaging Waste
The prospect of classifying release liner as packaging waste is a reality in parts of Europe, and the likelihood is this will impact the North American label market—possibly to the detriment of self-adhesive technology and in favor of other product decoration methods. US-based Channeled Resources, with its increasing base of MaraTech subsidiaries around the world, sets an example to the industry by demonstrating how non-traditional reuse/recycling of release liners can be achieved successfully. The company currently salvages approximately 65% of its waste intake—both paper and films—for reuse, with the balance going to thermal recycling for energy creation.
Market Characteristics
Raw material prices continue to move upward, and competitive pressures increase as the value chain continues to consolidate at all levels. The self-adhesive label market is characterized by a trend toward smaller orders, delivered more quickly so customers can maintain their productivity—whether they are laminators, label converters, or label users. Technical performance of label stocks depends very much on the qualities of the release liner, and the boundaries continually are being pushed back. Facestock improvements have been the focus of self-adhesive laminators in recent years, and present standards probably represent the limit of capabilities in many respects, such as caliper reduction.
Success in Today's Business Climate
Reardon offers advice to players in the market for release liners in this difficult environment: "To be successful, you need to improve your profitability by finding new market growth opportunities. You need to provide added-value materials and services—and take non-added-value complexity out of the supply chain. Demand will continue to grow for performance-oriented materials and, conversely, for the lowest total cost offering the best possible effect. "Don't wait to invest in new technologies. Players who invested earlier—maybe without making money at the beginning—have acquired expertise...and you won't be able to catch up with them."
In this special report:
---
A look at North American trends and opportunities in a global context.

by Corey M. Reardon AWA Alexander Watson Assoc.
In 2001 the worldwide market for release liners totaled an estimated 24,200 million sq m of silicone-coated papers and films—a lower than expected level of demand. The softening of the US economy during the last quarter of 2000 and its impact on the global economy was the main driver. However, there is optimism the US economy may strengthen in 2002 and beyond, and the economies in Europe, Asia, and parts of South America—already showing moderate growth—should follow.
Of the five major application categories in the market—label stock, graphic arts, tapes, other self-adhesive, and non-self-adhesive applications—self-adhesive applications account for 89% or 21,538 million sq m worldwide. The other segments—film casting, bakery and food liners, and industrial non-self-adhesive applications—account for the remaining 11% (2,662 million sq m).
In the global market, North America continues to dominate demand, accounting for about 42.6%. Europe takes second place with 31.4%, and Asia Pacific now represents a sizable 22%.
Release Liner Substrates
Overall, substrate demand is dominated by calendered kraft papers, with polyethylene-coated papers in second place, but this generalization is subject to significant regional differences, which (as in Asia Pacific) may be influenced by such basic factors as climate. In North America and Europe, calendered krafts predominate, though each region has its own specific preferences.
North America favors super-calendered kraft (SCK) papers, where Europe prefers glassines. PE-coated papers take the highest share in Asia Pacific (particularly Japan).
Film liners currently achieve a 12% level of penetration both in North America and across the globe and are growing fast, both in self-adhesive and non-self-adhesive application areas.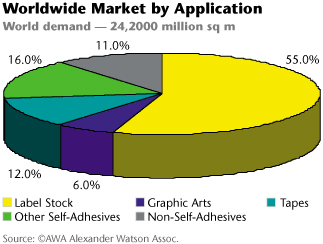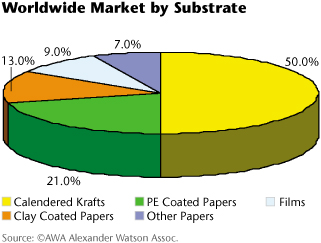 The North American Market in Detail
Based on the AWA North American Release Liner study published last year, the total North American market for release liners was quantified at 9,719 million sq m of silicone-coated papers and films—across all applications. Worldwide, self-adhesive applications claim the main usage, approximately 89% of the total. Of that total, 45% is in-house silicone coated, driven largely by the label stock and graphic arts segments.
The North American market share of commercial silicone coating companies (55%) will decrease slowly due to the dominance of self-adhesive (in-house coated) applications but will lead in all markets other than label stock and graphic arts materials.
Of release liners used in label stock applications, 80% are produced by in-house silicone coating by major self-adhesive concerns such as Avery Dennison and MACtac. In the highly competitive self-adhesive markets, in-house coating provides a valuable opportunity to minimize costs and increase margins.
There are a number of suppliers of paper release base in North America, including IP, Stora Enso, Westvaco, Wausau-Mosinee, SAPPI, Fraser, and Schoeller.
Some key suppliers for film grades are Saint Gobain, Tredegar Corp., Mitsubishi Polyester Films, DuPont Teijin, UCB, Phoenix Films, and ExxonMobil. Growth in films manufacture has been driven by the requirements of end-users for lower downtime on the packaging/filling line due to liner web breaks, by the relatively low costs of film manufacturing, and by the growth in market segments such as medical, building/ construction, and tapes.
Commercial silicone coaters represent more than half the North American market today, and in a business arena of change, divestment, and acquisition, the top five companies today are Akrosil, CPFilms, Douglas Hanson, Eastern, and Loparex. Of these, only two are global players (Akrosil and Loparex) with production capacity in different regions worldwide.
The supply of silicones in North America is, in contrast to the other raw materials, concentrated among a small number of global suppliers—Dow Corning, GE Silicones, Degussa Goldschmidt, Rhodia Silicones, and Wacker-Chemie.
The changing profile of the industry, at all levels, will lead to higher capacity usage as consolidation, acquisitions, rationalization, and liquidations continue. Undoubtedly, fewer companies will account for a larger share of the business, but there are also good prospects for small specialist suppliers of niche products.
While overall market demand in North America remains buoyant (without enjoying the same growth rates as historically), there has been softening due to economic conditions. Forecast demand continues to rise, and an annual increase of 4% is expected looking forward. This growth is driven by self-adhesive applications.
The Future for Release Liners in North America
The broad range of applications for release liners makes them a relatively secure niche in the world's converting industry. However, demand is softening—especially in the mature markets of North America and Europe—and they no longer can be relied upon to drive real growth, particularly the double-digit or near-double-digit growth seen in the past.
North America is not traditionally a main exporting region in the world for release liners, but there are opportunities for North American producers that are positioned to exploit such export opportunities, particularly in the economically expanding regions of Asia Pacific and South America. Reducing tariff barriers and international trade agreements such as GATT, NAFTA, and ASEAN can contribute to the attractiveness of such business.
In terms of market segments, the ethical and over-the-counter pharmaceutical markets—as well as nutraceuticals, medical disposables, and other medical and quasi-medical devices—are expected to benefit significantly from the demographic shift caused by the aging baby boomer generation—not just in North America but also in Europe.

AWA's in-depth market research in North America has led to projections of a 4% average growth for the release liners industry through 2003, an average that conceals considerable differences in the various market segments, as the chart below shows.
There can be no doubt the market in North America is well-positioned to achieve continuing healthy growth in the medium term, supported by consumer goods' manufacturers demands for more—and more innovative—primary product labels; high growth rates in the building and insulation market and others; and an established and primarily domestic raw materials supply base.
---
Corey M. Reardon has more than 15 years of management experience in the converting and laminating industry with leading companies such as Rexam and Avery Dennison. Today he is a principal of international market research and consulting firm AWA Alexander Watson Assoc., a company that specializes in supporting the coating, laminating, and converting industries with multiclient and private market studies and industry-specific supply chain conferences. For more information contact AWA at +31 20 676 20 69; This email address is being protected from spambots. You need JavaScript enabled to view it.; awa-bv.com.
---
---
Part 1 | Part 2 | Part 3 | Part 4 | Part 5
---