Published: April 13, 2017
WARWICK, UK | Afinia Label says the DLF Digital Label Finisher Series enables the production of short-run labels in-house, reducing inventory requirements and their associated costs. Additional savings come from eliminating pre-cut label rolls and minimum gap requirements when printing in full bleed.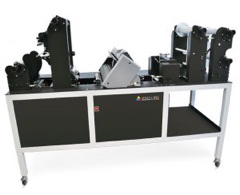 Company says the DLF Series provides ultra-precise cutting abilities and easily produces beautiful full-bleed labels. The DLF-220L and DLF-350L can also laminate labels for added durability—no need for special label media.
All systems have advanced plotter cutting technology, which allows the cutting of different types of material and shapes, on the fly, without the additional cost of dies. They are also equipped with a cutter management tool/camera black-mark registration system to provide cutting speed optimization without synchronization issues.
The DLF Series includes all-in-one systems that unwind, laminate, knife cut, remove waste, slit, and rewind in one process to create professionally finished labels. These solutions are said to be well suited for on-demand, short-run label finishing from digital color label printers.
This email address is being protected from spambots. You need JavaScript enabled to view it.