Published: December 14, 2016
WESTMORELAND, NH | Polyonics offers the SWIFT program, which provides converters with same- or next-day shipping of company says are high-performance polyimide label materials.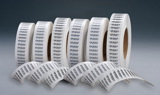 Pre-slit rolls are available in 1- and 2-mil thick, high-gloss, semi-gloss, and ESD-Safe constructions, in widths of 3, 4, 5, and 6 in. and lengths of 410 ft, for short runs, and 1,640 ft for mass-production jobs.
All products are pre-packaged for immediate delivery.
This email address is being protected from spambots. You need JavaScript enabled to view it.