Published: September 29, 2016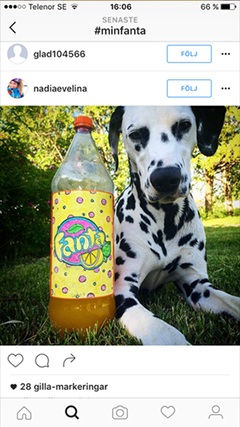 VIENNA, AUSTRIA | Coca-Cola Sweden partnered with Constantia Flexibles to create a label with a whitened varnish area that allows consumers to draw their own designs directly onto the label. In order to achieve this, Constantia Flexibles supplied a 38 µ white OPP film label, creating a specific area that is fully customizable with crayons.
This innovative label meant that the brand was able to create a special promotion to boost sales and interactivity in the Swedish market. The widely available labels encourage customers to design their own label and submit their designs on Instagram under "#MINFANTA."
Each week a winner is drawn and their design is interpolated by one of Sweden's most famous street artists onto a pair of sneakers.
Constantia Flexibles says it is very excited to see the most beautiful drawings and are proud of having supported this fantastic idea of interactivity with Coca-Cola Enterprises Sverige AB consumers.
"So far the campaign has been a huge success, both in incremental volume and consumer engagement", says Björn Lindblad, brand manager, Fanta Sweden.