Published: July 26, 2016
AMSTERDAM, THE NETHERLANDS | AWA Alexander Watson Associates reports that this year's Global Release Liner Industry Conference & Exhibition, held in April in Vienna, Austria, started with a half-day workshop and focus group in association with FINAT, centered on release liner recycling. FINAT Recycling Project Manager Mark Macaré told participants that a number of EU member states have already classified spent release liner as packaging waste as opposed to process waste—which requires them to be recycled/reused in line with specified EU legislation.
More than 60 participants, representing the world's release liner supply chain, came together for this workshop to discuss the opportunities and challenges for release liner recycling—with the ultimate aim of identifying and moving forward practical solutions. The workshop was chaired by Calvin Frost, Chairman of the FINAT Sustainability & Recycling Sub-committee.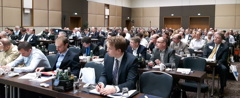 The conference program was opened by AWA president and CEO Corey M Reardon, who introduced the central themes of the conference: leadership, innovation, and technology. He led a real-time industry survey with the audience, who used electronic hand-held devices to answer questions on key industry topics. The responses, which were shared instantly, included estimates of business growth in 2016 over 2015, predicted by many to be 2%-4%, with film liner usage said by most to be growing faster than paper.
Dean A Scarborough, chairman and CEO of Avery Dennison Corporation, delivered the keynote speech. "The state of the industry is good," he said, adding that the greatest growth opportunities are seen in higher-value applications such as RFID, although core label business growth can be expected to grow annually at 3%–3.5%. He remarked on the continuing trend to lower basis weights in substrates which, he added, nevertheless "deliver more functionality." He said the industry is in a good position on competing product decoration technologies.
Reardon presented Scarborough with the 2016 Release Liner Industry Leadership Award—a presentation which AWA will now make annually at this conference. Reardon also offered a market update and his summary of AWA's Annual Release Liner Industry Survey. Approximately 46 billion SQM of release liners are produced annually worldwide, mostly in label market applications and mostly employing glassine/SCK paper. However, Reardon said the tape market is one of the fastest growing segments, particularly in the Asia Pacific region. The annual survey confirmed that sustainability as an issue is now no.1 in the industry.
The event included an Executive Leadership Panel Discussion, a discussion by technology experts on the status quo in silicone and coating technology, and a supplier update. Concurrent sessions covered growth through innovation, leadership, globalization, and recruitment.
Reardon led off day two with an overview of the label market, which in 2015 grew by 4.5%, said to be a healthy figure but not comparable to the growth in the medical market, at 7.4%, or the tapes market, at 7.2%. He discussed trends and developments, identifying digital direct-to-container print as "a potential disruptive technology in some applications." Linerless labels, though continuing to gain interest, are still a niche, he said. Pressure-sensitive labels, however, continue to offer the best-suited technology base for intelligent label technologies, including RFID.
Reardon outlined developments in the fast-growing medical market, which now represents 3% of the total release liner market at 45.9 billion M2. Driven by an aging population and the growing use of disposable medical devices, this is a market where there is no single dominant release liner substrate—the choice is always application-specific—and it is the cleanliness and purity of the construction that is of paramount importance. Also featured were reports on self-adhesive graphic films, the tape market, the use of industrial tapes in the automotive industry, the industrial release liner market as a whole, and specialty PSAs for building and construction.
The Global Release Liner Industry Conference and Exhibition is complemented annually by the focused AWA Label Release Liner Industry Seminar, held just prior to Labelexpo in Chicago and Brussels. This year's event will be held in Chicago September 12, and delegate registration is open now.
This email address is being protected from spambots. You need JavaScript enabled to view it.