Published: July 20, 2015
SWAVESEY, CAMBRIDGESHIRE, UK | Industrial Inkjet Ltd. (IIJ) reports the success of a pilot system at one of America's biggest label companies has prompted it to go for a full commercial launch of a new super-fast version of its monochrome range ahead of Labelexpo Europe, September 29–October 2, in Brussels, Belgium. The new HS range runs at 167 mpm, double the previous speed.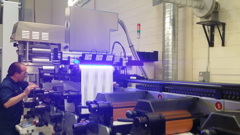 John Corrall, founder and managing director of IIJ, says, "We were getting a significant number of enquiries from tag, label, or security printers who need UV inks to print onto foils or coated stocks. They told us they can't live with the poor economics caused by the low print speeds of typical one-pass UV inkjet systems. When one particular customer in the US challenged us to deliver a truly economic system, we jumped at the chance to deliver for them, and, at the same time add to our product range."
IIJ has been so convinced of the commercial opportunities for its new HS system that it invested more than £100,000 in an unwinder/rewinder media transport system capable of 220 mpm just to allow realistic and rigorous in-house product testing.
The first HS system (352–mm print width) is now in full production at the US customer's site, details of which are expected to be unveiled soon.
With print widths as standard to 520 mm and enhanced variable information software, company says the new model is well suited to printing of variable text, small 2D barcodes, and more at sustained speeds of over 160 mpm. Inks available include low-migration inks for food packaging, white, varnish, high-build varnish, and security inks including UV fluorescent. Spot colors are also available.
Company's print engines are designed to be easily integrated into the customer's existing production line. Its products use Konica Minolta inkjet printheads for what is said to be the highest quality and performance and very long lifetime.