Published: November 03, 2014
GLOUCESTER, MA | At the recent Annual Meeting of the Tag and Label Manufacturers Institute (TLMI), Michelle Garza, VP Operations of DantexRBCor, was named Supplier of the Year and Art Yerecic, president and CEO of Yerecic Label, was named TLMI Converter of the Year.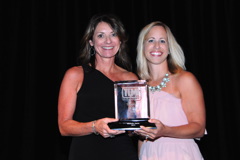 The Supplier of the Year Award honors and recognizes an individual for ongoing volunteer service and dedication to TLMI and to the greater industry. Criteria for winning the award includes service to TLMI on the association's board and committees, in addition to continuous commitment to the industry as a whole by helping to promote and foster its growth.
Michelle Garza has been active in the packaging industry for more than 25 years and has been an extremely dedicated member of TLMI, serving as both co-chair of the TLMI Technical Committee and a term on the TLMI Board of Directors. TLMI president Frank Sablone says, "Michelle has been an extremely dedicated supplier member of the association and is the third woman to be awarded Supplier of the Year. Her energy and dedication have been central to making the TLMI Technical Conference an ongoing success, and I speak for myself and the entire Board of Directors in congratulating her on receiving this honor."
The Converter of the Year Award honors and recognizes a member of the converting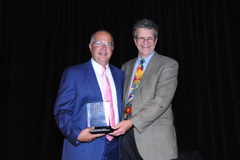 industry who has made an extensive contribution to the North American narrow web marketplace and who has additionally demonstrated a steadfast commitment to TLMI.
Art Yerecic grew up in his family's label company and was operating a printing press in his early teenage years. According to TLMI, he cultivated an early entrepreneurial instinct in that has over the years molded Yerecic Label into what it is today: a progressive flexographic label company that serves as an industry role model for service, quality, lean manufacturing, and sustainability and best environmental practices.
Yerecic Label uses a range of Japanese continuous improvement and visual management tools to monitor every facet of the company's production processes. In addition to lean manufacturing practices, Yerecic Label has been a pioneer in the adoption of best sustainability practices and the company is currently one of the few 100% landfill-free operations in the North American marketplace.
Art has served on the TLMI board of directors since 2004 and has chaired several TLMI Technical Conferences, reportedly being an instrumental force in growing and expanding the conference into the success it is today.
This email address is being protected from spambots. You need JavaScript enabled to view it.