Published: August 12, 2014
FOREST PARK, IL | Essentra Specialty Tapes (formerly Duraco Inc. and Duraco Express) introduces its new versatile double-sided clear film tape, Duraco Red. This new family of premium tapes was developed as an ideal solution for:
Permanent bonding, especially in hard-to-adhere applications, such as UV coated materials.
Accurate positioning of a transparent tape over graphics or text.
Revealing the graphics during and after application of the tape.
Use in high temperatures.

Applications where a thicker film tape is required.
Duraco Red's release liner and permanent tape are both transparent, allowing the user to accurately position the tape while applying it to a surface with graphics or text. Once the red liner is removed, the graphics will show clearly through the remaining tape. The adhesive will not yellow, and it minimizes any hazy appearance. It will maintain the aesthetic value and readability of the underlying graphics or text.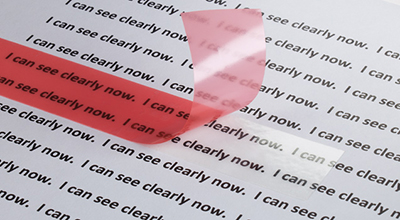 A specially modified acrylic adhesive used in Duraco Red produces a strong bond with a wide variety of materials. Examples include difficult bonding surfaces, such as UV coated signs and other graphics, low surface energy plastics (polypropylene, polyethylene, and some styrenes) and metals with powder-coated paint. Duraco Red is also well suited for more typical bonding applications, such as paper, corrugated cardboard, wood, glass, and other materials.
Duraco Red can also be used for applications that require a thicker film tape. Its 8-mil thickness is nearly double the thickness of many other standard film tapes. The extra adhesive used in Duraco Red allows for greater wet-out or flow-out to achieve a stronger molecular bond.
This film tape has a service temperature range of -14 deg F to +300 deg F, and is best applied in temperatures between +65 deg F and +100 deg F. Duraco Red is available as pre-cut pieces on a roll, or on continuous rolls. Pre-cut pieces on a roll are available in widths ranging from 1/2 in. to 1 in., with a 1 in. to 5 in. length. Essentra Specialty Tapes not only provides the industry standard roll length of 180 ft., but also features exclusive long rolls in a 750 ft. length. Standard rolls are available in widths of 3/8 in. to 3 in.. Long rolls are available in widths of 3/8 in. to 1 in.
The multiple features and properties of the Duraco Red tape family were engineered to accommodate unmet needs and unique applications encountered among customers using other tapes. Duraco Red can be used in the development of P.O.P. and other retail displays, for box closures and vinyl banners. Printers of all types of materials—signs, banners, containers, and more—can use Duraco Red in their manufacturing and production process.
Essentra Specialty Tapes manufactures all of their Duraco Red tape products, and maintains product inventory at seven distribution centers located throughout the U.S. These regional centers provide quick and local access to products, including same day shipments.
This email address is being protected from spambots. You need JavaScript enabled to view it.