Published: April 09, 2014
FILDERSTADT, GERMANY | Herma is offering HERMAtherm top M (grade 912), a new, white thermal paper enhanced by a protecting coating. The bisphenol A (BPA)-free material's advantages are said to be useful wherever thermal labels made from smudge-proof, solvent- and grease-resistant paper are required. It reportedly offers good results both when labels are being applied to humid surfaces, as well as when subsequently exposed to the effects of humidity.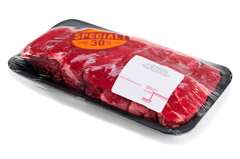 Company says material is well suited for fresh meat, sausage, and cheese products in pre-packed form because of the demanding ambient conditions which often prevail when the labels are being applied and printed with variable data.
New material is said to offer superior whiteness compared to the predecessor material HERMAtherm top R (grade 918) and improved thermal printability, making it suitable for EAN and UPC codes. Also, because material is less susceptible to scratching, barcode reading accuracy is improved, company says, adding that the smooth surface delivers improved print quality with all the classic printing methods. Product can be coated with all company's permanent adhesives to suit the specific application.