Published: March 11, 2014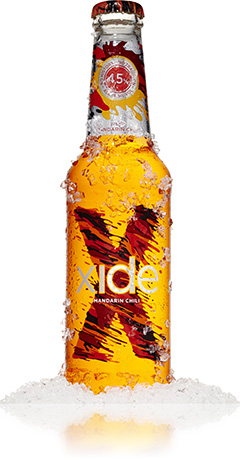 MASON, OH | Carlsberg Sweden recently unveiled a radical redesign of its Xide beverage range. The extensive portfolio of alcoholic mixed RTDs has been injected with a new lease of life via ten exclusive label designs, printed by Spear.
Carlsberg design agency Nine's objective was "to bring the X to life." Spear helped to achieve this by working closely with designers throughout the process to identify the optimum printing processes and finishes for each piece of artwork.
According to Andreas Linnell, design director, Nine, "The redesign of Xide was a complex project, with unique and intricate artworks requiring completely different printing techniques for each flavor in the range. Essentially each SKU was a project in itself and the technical knowledge, experience, and support provided by Spear proved invaluable in translating the original vision to an award-winning range of beverage design."
Spear utilized a combination of screen/flexographic and foil processes to enrich each individual design. For example, Raspberry Blossom was created using a simple, four-color process, but by substituting the black flexo for a screen black, the label gains a visual and physical tactile appearance. The Mandarin Chilli variant has a layered and vibrant appearance, achieved using multiple screen ink colors. Another interesting effect can be seen on Xide Bright, which was constructed combining two hot foils, silver and holographic.
The logo-type is printed with a foil finish for each design allowing it to suitably accompany the illustrative detail. The result is a striking collection in which the X takes on its own identity across the ten-bottle range.
This email address is being protected from spambots. You need JavaScript enabled to view it.