Published: May 01, 2013, By Ann Hirst-Smith
New AWA report profiles one of the world's fastest-growing economies
A new report from AWA Alexander Watson Assoc., Labeling & Product Decoration Markets Brazilian Country Review 2013, documents the status quo of the label and product decoration market in one of the most dynamic countries in the BRICS group of emerging economies (Brazil, Russia, India, China, and South Africa). Published in English, Portuguese, and Spanish, the report provides an up-to-date reference for all concerned with, or interested in, Brazil's label and product decoration value chain.
Brazil is the standard bearer for South America, which is, in itself, one of the world's fastest-developing regions in terms of both its economies and social change and represents 5.7% of global population. Brazil is home to 50% of the region's population and also represents some 48% of regional GDP. Its projected 2013 growth, at over 3%, is a reflection of two mirror images:
An economy hungry for infrastructure and industrial development to feed the needs of the consumer society and its ramifications
An opportunity for the country to take advantage of the low interest rates endemic around the world
This is what makes Brazil an attractive sales prospect for external manufacturers and suppliers. Today, Brazil ranks fourth in the world for Foreign Direct Investment.
Packaging and labels are central to the needs of FMCG (fast moving consumer goods) retailing, so it is not surprising that Brazil is the leading consumer of labels of all kinds in the region, with over half the total South American market. Brazil is also the world's third-largest soft drinks market and beer market; the ninth-largest pharmaceutical market; and it accounts for about 10% of global sales of beauty products.
Beverages represent the highest percentage of Brazil's label demand, followed by food. Most of the materials used for labeling are papers, with the balance of the market shared between films, synthetic papers, metallic foils, and cellulose acetates.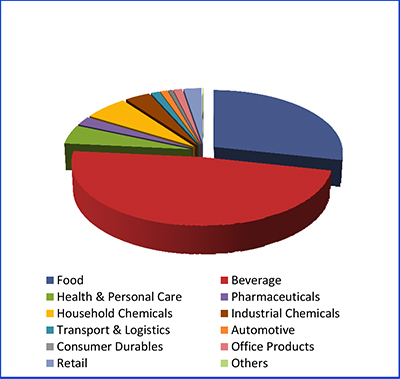 Label formats
In terms of preferred label format, it is the glue-applied technologies—cold glue and wraparound hot melt glue-applied—that currently take Brazil's largest market share, and the technology is forecast to continue to deliver healthy growth there in the medium term. Pressure-sensitive labels enjoy a very much smaller share of Brazil's label market.
Opportunities in pressure-sensitive labels exist in particular in the area of added functionalities—especially security labels using anti-counterfeiting devices, clear-on-clear film labels for beverages, and peel-off on-pack promotional labels.
Sleeving technologies have so far achieved only a very small percentage of the market but are growing (particularly shrink sleeving)—driven by their inherent container barrier protection and tamper-evident properties, and the innovative and complex container geometries that they can accommodate. ROSO (roll-on-shrink-on) and the new reel-fed shrink sleeving—which grew dramatically in the last year—are expected to take further market share.
In-mold labeling—with its greater demands on machinery infrastructure—is still in its relative infancy in Brazil, but following strong investment in 2011, is forecast to grow significantly in the medium term.
Particularly in prime label applications, the broad current platform of label technologies is, of course, further challenged by the alternatives offered by direct-printed containers, cartons, and flexible packaging and pouches as decorated primary packages.
Retailing and FMCG
Whatever the packaging choice, shelf "stand out" is a major consideration in a growing consumer-focused environment with increased spending power. In Brazil, the world's major retail chains—including Walmart, Costco, Home Depot, Walgreens, Carrefour, Tesco, and Metro—are now developing a presence.
A growing retail market also makes demands on a country's logistics infrastructure. Today, more than 10% of Brazil's label demand is answered by variable information print applications—a percentage that is likely to grow. Functional/security applications currently represent a very small percentage of the total Brazilian label market, but this segment represents much of the higher-value-added and innovative labeling, employing all the extant label technologies to a greater or lesser extent.
Unsurprisingly, promotional labels—nearly all pressure-sensitive—are playing a significant role in the Brazilian market. They are heavily used to make special offers, or to present discounts by direct attachment to the product, and are often targeted at specific events, such as the upcoming FIFA World Cup (2014) and Olympic Games (2016), both scheduled to take place in Brazil.
Looking ahead
As well as these major opportunities for serving global, as well as regional and local markets, Brazil will see ongoing development in strong retail and distribution networks, promoting e-commerce and variable information printing (VIP) labeling as well as an increased use of "intelligent" label technologies such as VIP.
The major end-use consumer goods segments also will grow in line with a burgeoning middle-class population. Brazil will continue to attract inward investment across the label value chain, and together these factors will provide for growth rates—economic and business-related—above the global average, with resultant parallel positive movement in the label and product decoration markets.
AWA Alexander Watson has recently published Labeling & Product Decoration Markets Brazilian Country Review 2013, complementing the firm's portfolio of expert regional market evaluations across the globe in the specialty paper, film, packaging, coating, and converting industries. The report may be ordered online in English, Portuguese, or Spanish via the AWA website at http://bit.ly/17hGdyO, where a full prospectus is also available at http://bit.ly/ZP3ra4.