Published: August 14, 2012
MALDEGEM, BELGIUM | Verstraete announces SuperClear IML, a super-transparent film that makes it possible to leave sections of the in-mold label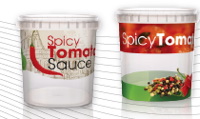 without lacquer to create a no-label look. These transparent areas make it look as if there is no IML label at all in those areas.
Reportedly, the technique allows an infinite number of different IML looks to be created with the same keyline. If the brand owner wants to switch to a label that has a different shape, there are no more costs required for reprogramming the IML robot. Choosing a partially printed SuperClear label with some areas that are still transparent—and thus invisible—is sufficient. This offers injection molders and brand owners the option to market multiple variations in packaging that were all produced within the existing keyline, with maximum flexibility and no changeover costs.
By printing only the upper portion of the SuperClear label, the label appears to be floating. However, the label is actually injected underneath the IML base layer so that it can be processed trouble-free, company says.
This email address is being protected from spambots. You need JavaScript enabled to view it.