Published: July 17, 2012
LONGMONT, CO | Webscan reports the release of a new system capable of verifying invisible 2D barcodes that are visible only under UV light. The TruCheck 2D UV hand-held 2D barcode verifier, for invisible barcodes used in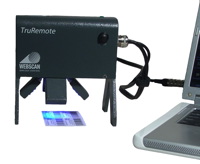 security applications such as track and trace, incorporates UV wavelength LEDs and a UV-sensitive CCD camera.
Webscan president Glenn Spitz says, "The TruCheck 2D UV empowers printers to verify the readability of invisible barcodes and diagnose printing issues like never before. From anti-counterfeiting and other security applications, to simply printing a code that does not disturb package graphics, invisible barcodes are gaining more and more interest across several industries."
The TruCheck 2D UV is operated by company's software interface, which can verify 1D (linear) and 2D barcodes. Detailed reports are generated and stored automatically.
This email address is being protected from spambots. You need JavaScript enabled to view it.