Published: December 06, 2011
OAKLAND, CA | The International Green Awards recently recognized Ecologic Brands as the Best Green 4R's Award recipient, celebrating the company's new molded fiber bottle that uses a re-sealable "smart fitment" as the best innovation in efforts to reduce, reuse, recycle, and recover material. The award was part of the 6th International Green Awards for Creativity in Sustainability.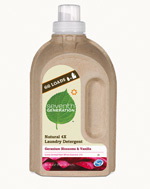 The winner combines a molded-paper outer shell made from 100% recycled materials (70% recycled cardboard boxes and 30% old newspapers) with a thin, fully recyclable interior pouch. The outer shell has been certified by Soil Control Labs to be compostable per ASTM 6868 standards. The company says the thin interior liner uses up to 75% less plastic than rigid plastic containers, and the package also offers greater carbon savings because its outer shells are tightly nested and transported flat.
The brown molded fiber bottle will be in as many as 7,000 stores in the US by year's end, including mainstream grocers and mass retailers in the US, such as Target, Whole Foods, Kroger, and Raley's.