Published: February 01, 2010, By Edited by Claudia Hine, Managing Editor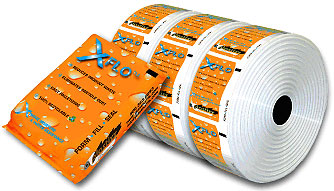 Plastixx FFS Technologies, the Montreal-based converter, manufactures gusseted tubing for packaging applications, utilizing a patented, breathable back-seam technology. These products are designed to contain cementitious materials, fine powder, resin, granular products, pet food, and all other items that are packaged using form, fill, and seal (F/F/S) machinery.
The F/F/S packaging is water and moisture resistant, and can be made with vapor- and oxygen-barrier substrates. The substrates produced are both durable and 100% recyclable.
Plastixx operates 72-in. Varex blown film lines from Windmoeller & Hoelscher (W&H) and also has eight-color printing capabilities, including four- to eight-color process printing commonly found in retail product applications.
The company, a part of the Nelmar Group of Companies established in 1984, installed its first three-layer Varex blown film line when it opened its newest facility in 2006. Its latest line was installed in 2009.
"Becoming vertically integrated and producing film in our own facility allows us to have more consistent film," says Ricky Gold, executive VP. "We are extremely satisfied with our W&H lines, and they have enabled us to utilize the best resins to maintain a very high film quality specifically designed for our various packaging applications.
"Our success is not only attributable to our products and manufacturing processes, which are cutting edge and brand new to North America," says Gold. "We rely on our attention to detail and customer service to set us apart.
"Our management team is very good at seeing trends in the market and identifying opportunities. We've always been focused on bringing additional value to existing products. We also look at specific markets and try to identify needs. We're really not about doing what everybody else is doing in the mainstream.
"In North America, there are a lot of operations that are using premium bags, from cementitious materials to resin to moisture-sensitive materials," he says. "In Europe, these products have steadily evolved toward automated packaging, using form, fill, and seal machinery. These F/F/S machines use packaging materials on large rolls. They maintain continuous high-speed output in converting large rolls, by forming, filling, and sealing them into full industrial sacks. These sacks get filled at rates up to 2,400 bags per hour."
Converter Infot
Plastixx FFS Technologies Inc. | 3100 des Bâtisseurs St., Terrebonne, QC J6Y 0A2 Canada | 450-477-0001 | www.plastixxffs.com
Supplier Infot
Perfect for Powder
Plastixx's product line includes its trademarked XFLO self-venting package that incorporates built-in breathable back-seam technology. This allows excess air to escape after the filling process but will not let air back in once the package is sealed. The integrated labyrinth valve allows products to be packaged at high filling speeds and results in a cleaner and more efficient filling process.
Its trademarked XVAPOR gusseted tubing provides superior barrier protection qualities for packaging hygroscopic (moisture-sensitive) materials such as nylon, ionomer, thermoplastic polyurethane (TPU), adhesives, and other chemicals and minerals. Executive VP RIcky Gold says that it offers better elongation characteristics than other barrier alternatives.