Published: January 28, 2004
PRESS RELEASE
VERONA, ITALY—Eurograv Ltd. reports Uteco Converting S.p.a will showcase one its new central impression (CI), 8-color gearless flexographic presses at Drupa. In addition, says the Uteco press distributor, Uteco will show a print unit on a new gravure press.
ONYX, Uteco's newest flexo model, is a compact-sized machine equipped with easy anilox and plate sleeve-change systems that, along with its simplified print deck operation, enables operators to set up and change jobs quickly.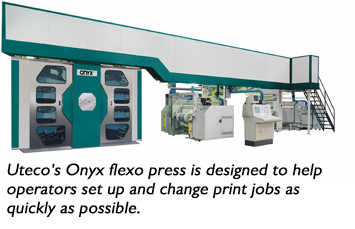 Verona-headquartered Uteco also will host an open house at its main facility of Colognola ai Colli (Verona) for the duration of the show. The open house will feature demonstrations of gearless flexo printing and lamination in the Uteco Tecnology Center (UTC).
According to Uteco, it develops its equipment—like the successful Amethyst flexo press—with the changing converting environment in mind. "Press downtime has always been costly to printers and converters, but the problem has become of greater concern in recent years with shorter runs, increased frequency of changeovers, and fewer chances to make up the cost of downtime through high-volume output," explains Uteco. "In response to the needs for high quality and quick turnaround, Uteco has concentrated on developing such highly functional machines as the Amethyst gearless press, which offers predictable, consistent high-speed output combined with ease of use and optimum processing uptime."
Uteco adds the Amethyst also incorporates a simple sleeve-change system for both printing plate cylinders and ceramic anilox rolls; this feature, reports the OEM, allows for speedy and easy job changes. "Innovations include a new style adjustment-free doctor blade—enabling both blade and end-seal change without the use of tools—as well as an optional wash-up system," says Uteco.
Gravure Offering
Eurograv, responsible for Uteco sales and service in the UK & Eire, says printing and converting process choice is based on numerous factors, and includes economics, tradition, and choice. According to Eurograv's Alan Attard, "There will always be a market for both gravure and flexo, and Uteco's philosophy is to offer prospective customers both flexo and gravure as a purchasing option."
At Drupa this year, Uteco will launch a newly designed gravure press, offering different levels of automation depending on budget. "[Fully equipped,] the gravure unit incorporates Uteco's unique shaft-less technology—used in the flexo field—coupled with quick-sleeve change, automatic-cylinder wash down, and doctor-blade positioning," adds Uteco.
Eurograv's senior personnel will be in attendance the entire run of Drupa in order to deal with enquiries from UK printers and converters. For further information contact Eurograv at This email address is being protected from spambots. You need JavaScript enabled to view it.. For more information on Uteco, visit uteco.com.
---