Published: March 01, 2011, By By Greg Grishchenko
The current Great Recession has hardly changed people's drinking habits. Consumption of hot drinks keeps growing, and spending patterns of the developed world slowly are passed on to the rest of the world, especially Eastern Europe and the BRIC countries (Brazil, Russia, India, and China). Disposable paper cups are the preferred choice for drinking on the run.
In 2009, Solo Cup produced 30% of the paper cups in the US (see Figure 1) and 30% of the plastic drinking cups (see Figure 2). Dart Container Corp. had the lion's share of foam cup production (see Figure 3).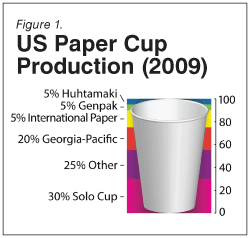 Sustainability Issues for Paper Cups
Newer, more consistent, heat barrier multilayer substrates offer comfortable drink handling for the user. These, however, come with a price and an environmental impact. The most recent developments point toward creation of so-called environmentally responsible or green packaging materials.
New technologies are being developed for both paper and plastic cups. There are several directions leading to a sustainable disposable cup: making it biodegradable or compostable; making it from recyclable or recycled material; and reducing its environmental impact during the manufacturing process. Even as the most economical approach might be a combination of "green" attitudes, ironically there is a strong trend not to use disposable cups at all.
Major coffee houses such as Starbucks have used various strategies for the past 20 years to bring sustainability to the business. In 1997, Starbucks introduced the recycled-content sleeve for hot drink cups as a way to reduce "double cupping." In 2006, Starbucks introduced the industry's first FDA-approved paper drinking cup containing post-consumer recycled fiber (PCF).
At the end of November 2010, International Paper (IP) and Starbucks issued a press release regarding a six-week pilot project completed at Mississippi River Pulp mill. This mill has cooperated with Starbucks since 2006, and the current "cup-to-cup" recycling pilot project continues Starbucks' efforts to recycle used paper cups into new paper cups.
IP, the global paper company and a key Starbucks' supplier of drinking cups, currently converts standard paper cups with 10% PCF made from office paper. The PCF cup stock used for the pilot project includes cup material. Currently virgin paper containing long fibers is a preferred choice for paper cups from the manufacturing and hygienic points of view.
There are other competing hot beverage cup concepts on the market. Georgia-Pacific currently manufactures an air-insulated three-piece cup. Huhtamaki utilizes recycled paperboard for outside layers, having a direct drink contact piece made of virgin paper. Crude hot cup imports from China are represented by a "ripple" cup — a double wall cup with an outside sleeve made of recycled corrugated paperboard.
There are no clear guidelines for 100% recycled paper application in cup manufacturing. Still prevailing in the industry is the notion that hot paper cups cannot be made with 100% recycled paper containing shorter fibers because they will be too weak to withstand the heat of the beverage.
While the health and safety implications of direct beverage contact are taken very seriously by the paper industry in the US and European Union, efforts to apply plastic-coated recycled paper for drinking cup formation continue. Today almost all major paper cup manufacturing companies conduct research in this field, including principal users like Starbucks, which claims its green goal is to ensure 100% of its cups are recyclable by 2015.
The first hot paper cup made of 100% PCF recently was introduced by Moducup LLC, a small, family-owned company from New Jersey. Its brown paper cup, with the trade name "Sustain-A-Cup," currently is in market testing in the US.
The company's president, Marcin Dziadyk, claims Moducup currently is working with several US-based paper mills that have developed proprietary unbleached paperboard with naturally insulating features.
Another solution for sustainable paper cups comes from bioplastic technology. Despite a higher price tag, the bioplastic industry is on the rise. According to the trade association European Bioplastics, this industry challenges the economic crisis, building new plants and investing in product innovation.
The biodegradable concept based on polylactic acid (PLA) was pioneered by NatureWorks LLC, an American company with branches in Europe and Japan, that marketed the Ingeo brand of PLA-based plastic. So a biodegradable or compostable paper cup now is made of virgin paper (which degrades naturally), coated with PLA-based plastic.
Several principal manufacturers in the US and worldwide produce such cups. Huhtamaki developed BioWare paper cups, with coating made from NatureWorks Ingeo bioplastic; International Paper Foodservce Div. sells Ecotainer paper cups with a similar concept; and Solo Cup Bare makes hot and cold paper cups as well. All these products are considered to be ecologically friendly, replacing traditional paper cups with petroleum-based polyethylene (PE) coatings that are difficult to recycle and destined mostly to landfill sites.
However, the advantages of a biodegradable notion are rather ambiguous. First, the compostable cup moves the eco-responsibility from the manufacturer to the user, which means the consumer needs to put the used cup into a compost bin, which may not be nearby or takes too much effort to do. Second, corn-based products (corn is a principal bioplastic source) may bring some unexpected consequences, such as dramatic food price increases or even political complications between users in developed regions and suppliers from low-income countries.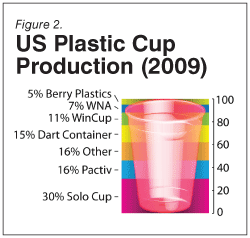 Plastic Cup Tribulations
Annual sales for plastic drinking cups reached $1.8 billion in 2009. While offering significant cost advantages over paper cups, plastic cups introduce a wide range of problems for recyclers.
Plastic recycling is a growing industry, but the world economic crisis brought it to a halt in almost all sectors. Currently the growth rate of rigid post-consumer plastic container recycling in the US is near zero.
Densely populated countries of Western Europe and Japan, with limited landfill space, introduced recycling laws and regulations with different levels of success. In today's Germany — the country that introduced "Green Dot" packaging laws connecting suppliers of the goods with package disposal — urban dwellers face four to five different waste bins representing metal, glass, and plastics of different colors.
However, the rest of the world is far from following this pattern for different reasons. The US, which is leading the world in per capita packaging use with plenty of land for dumps and lax recycling laws, does not have a sound recycling strategy. This is not only because of questionable profits in the recycling business or local resistance to modern garbage-burning plants, but it also is due to the absence of the issue's magnitude in the consumer's mind.
Industrial recycling in the US may consider 1988 as its beginning; that's when SPI (The Plastics Industry Trade Assn.) created its resin identification coding system. Although use of the code for all rigid plastic containers is mandated by varying laws in 39 states, it became the de facto national standard.
According to Plastics News magazine, the Assn. of Postconsumer Plastic Recyclers hopes to increase recycling of rigid plastics beyond the easiest processed — No. 1 [polyethylene terephthalate (PET)] and No. 2 [high-density polyethylene (HDPE)] — by working with grocery chains to identify all obstacles to utilize the rest of the plastic materials coded No. 3 to No. 6 [polyvinyl chloride (PVC), low-density polyethylene(LDPE), polypropylene (PP), and polystyrene (PS)].
However, while PET bottles are widely recyclable, PET cups are difficult to recycle in most communities. Starbucks keeps replacing its industry-standard PET cold cup with a PP substitute in the US, Canada, and Latin America.
This action was based on ecological research claiming that PP cups use 15% less plastic than PET cups and emit 45% fewer greenhouse gases during their production. Unlike PET cups, PP cups do not contaminate other PP containers when mixed for recycling.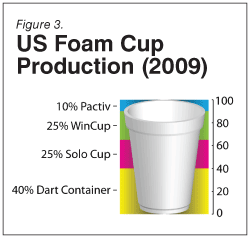 Currently several US companies created a drive to promote collection sites for post-consumer PP. However, this is a very slow development due to the absence of curbside collection channels.
An increasing flood of plastic cup imports coded No. 5 (PP) and No. 6 (PS) coming from China, as well as domestically, makes the recycling process more costly and less practical. Another muddle may come with the introduction of biodegradable PLA plastic cups. The industry tries to prevent PLA-based material with the lower melting temperature from tainting the PET recycling stream.
Similar issues exist for foam cups made of PS with a No. 6 code. An expanded polystyrene (EPS) cup is the lowest-cost drinking container with a $900 million market value and is a recyclable product. However, many curbside recycling programs don't accept polystyrene, and the current recycling rate for EPS packaging in the US is about 10%-12%.
A foam cup retains almost zero advertisement value due to limited printing options on its surface. The food service giant McDonald's presently uses foam coffee cups with the attached wraparound paper label, making recycling inefficient. Ironically, McDonald's completed a full circle with its coffee cups: from foam cups in the 1980s to paper cups and back to labeled foam cups.
For many years, Solo Cup Co. has produced another approach, using EPS for its Trophy thin-wall cup — the two-piece construction is made with paper cup technology. This cup offers better printing quality at a price almost three times less than a paper cup and excellent insulation for hot drinks but presents recycling problems similar to the other foam cups.
According to a Freedonia Group report, the green packaging market in the US is estimated at about $37.5 billion and is expected to grow nearly 5% a year for the next three to four years. Drinking cup segment's share keeps growing, and the importance of this market as a part of a total green approach to the environment should be embraced by anyone in the industrial world. Today, a good comprehension of a sustainability concept should prevail in any business development.
Greg Grishchenko is an independent market and technology consultant with extensive converting and packaging experience. He has carried out extensive research in paper cup converting technologies and also is the author of several reports on Eastern European packaging, converting, and the printing sector. He can be reached at This email address is being protected from spambots. You need JavaScript enabled to view it..