Published: March 01, 2010, By By Claudia Hine, Managing Editor
The Flexible Packaging Assn. (FPA), Linthicum, MD, received 85 entries for the 117 categories covered by its 2010 Flexible Packaging Achievement Awards competition. Judges culled the entries to 22 packages deemed worthy of recognition at the association's annual meeting, held March 10-12 at the Waldorf-Astoria in Orlando, FL.
Here is a look at this year's top winners. Visit www.flexpack.org for more details.
1 Highest Achievement Award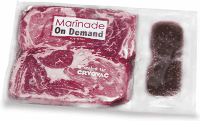 A container that packages fresh meat or poultry with a restaurant-quality marinade earns top honors for Sealed Air Corp., Cryovac Food Packaging, Duncan, SC. The Marinade On-Demand package wins the Highest Achievement Award and a Gold Award for Technical Innovation. This is the second year in a row Sealed Air has taken the top prize.
The package consists of a two-part thermoformed rollstock that keeps the contents separated until the consumer presses on the marinade pocket to break the seal, allowing the marinade to flow over the meat. The meat marinates inside the package for the desired length of time, and when ready to prepare, is removed from the easy-open package. This easy, sanitary, and controlled process preserves the quality of the 2 food and meets the demand for convenience.
Packaging Excellence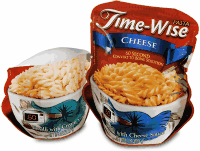 CLP Packaging Solutions, Fairfield, NJ, receives a Gold Award for its Time-Wise Bowl Pouch. Offering the ultimate in flex-pack convenience, the pouch is lightweight, offers long-lasting ambient-temperature shelf life, and features a handy heat-and-eat experience. Heat-free handles make it comfortable 3 to grip the package after 60 sec in the microwave, and laser scoring along the centerline converts the pouch into a stable, comfortable-to-use bowl. Amcor Flexibles, Brussels, Belgium, earns a Gold Award for the Amcor Contour Perforation — Emmi Cheese Plate. For this product introduction, four types of individually portioned cheeses are packed in one tray with four separate cavities. The tray is sealed with Amcor's lidding film, enhanced by contour perforation that allows the consumer to peel open the whole lid or to open only an individual cavity. This design keeps the cheese fresh and reduces food waste. The package's appealing colors and images are enhanced by matte 4 and gloss print effects. Windows on the lid reveal the contents, while opening indicators in the corner and on the individual cavities highlight the benefits.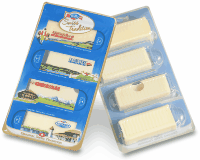 Printing Achievement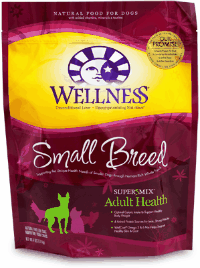 Bemis Flexible Packaging's Milprint Div., Oshkosh, WI, wins a Gold Award for Wellpet Packaging, which is gravure printed 5 using KromaSilk technology. KromoSilk provides a satin look along with three-dimensional depth. It utilizes a unique separation process that delivers a variety of graphic effects from silky gradation transitions to pseudo holographic color shifts. Improvement over the existing packaging of Werther's Original Caramel Chocolate earns Sonoco Flexible Packaging, Hartsville, SC, a Gold Award. The stabilo bag, 6 which provides four vertical sealed folds to form four lateral edges, incorporates a quad seal flat bottom that offers excellent shelf presence. Its three-ply structure has great stiffness and machineability on quad seal vertical F/F/S packaging equipment.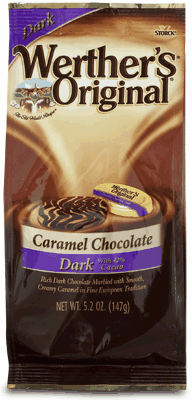 >



Technical Innovation

A Gold Award goes to Pliant Corp., Schaumburg, IL, for its Fresenius Dialyzer Package Forming Web. This innovative flow wrap 7 package is cost competitive and features a two-component, thermoformable nylon/polyethylene laminated bottom web, which is sealed to coated Tyvek. The package is said to provide improved manufacturing efficiencies twofold. The customer was able to improve sterilization techniques and converted from an ethylene oxide gas to an e-beam radiation technique.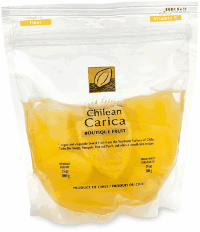 The functionality of a reclosable retort pouch used to package Tamaya Gourmet's Chilean Carica fruit products, earns a Gold Award for Ampac Flexibles, a div. of Ampac Packaging, Cincinnati, OH. The retortable zipper withstands the stresses of the retort process and conveniently stores remaining portions. The linear tear technology provides consumer convenience by opening cleanly and straight every time. 8 Product breakage was virtually eliminated as compared to existing glass packaging.
Environmental & Sustainability Achievement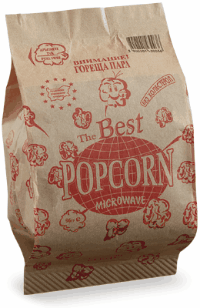 A microwave popcorn bag that is free of perfluorooctanoic acid (PFOA)earns Exopack LLC, Spartanburg, SC, a Gold Award. The popcorn bag introduces Solvay Solexis's grease-resistant coatings that eliminate the introduction of 9 PFOA into the environment and thereby eliminate the potential for bio-accumulation from microwave popcorn bags.
Pliant Corp. receives a second Gold Award, this one for Stratos Hand Wrap, an ultra-performance stretch film with folded edges. The film formulation offers the perfect balance of stiffness for high load containment, elasticity to allow the user to pull the film tight around a load, and superior puncture resistance for excellent corner handling. In addition the folded edge virtually eliminates product loss from edge hang while significantly improving load containment and tear resistance.