Published: November 02, 2011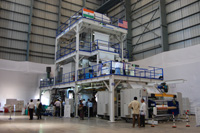 GLOUCESTER, MA | Dunetha-Daman, India, is the site for the new Kabra Gloucester Engineering joint venture with US-based Gloucester Engineering out of Massachusetts. At an open house, the new Indian company undraped its first 'KAGE' five-layer blown film system on October 11-12 with over 100 attendees on hand to share in the festivities. This first line is described as "fully loaded" with the KAGE brand name referencing film systems manufactured by Kabra Extrusion Technik (KET) Ltd., which utilizes Gloucester Engineering's engineering designs and technology.
Among the many leading packaging and converting companies present at the unveiling were those from Africa and Asia as well as those from India, including Supreme, Essel Propack, Positive Packaging, Vishakha, and Ecoplast.
At the event, the blown film line produced 2,200-mm layflat barrier film at 525 kg/hr for oil packaging applications. The line, which can also be used for producing lamination films, is reportedly designed for outputs of up to 600 kg/hr and has an installed capacity of 4,000 tons/yr.
Additional features of the system featured at the open house include:
Extruders with light groove feed technology
610-mm self-centering die utilizing encapsulated feed port technology
Ultra cool II dual lip air ring with film thickness control utilizing beta gauge measurement
Carbon composite rollers for collapsers
Turret style center winders
The line has been specifically designed for Prropyl Packs Ltd. of Kerala, India. It is reported Prropyl Packs will use the machine at its plant to manufacture film for primarily edible oil packaging applications. The barrier film is claimed to not only meet government shipping standards, but it is said to improve the shelf life of the oil, protecting it against oxygen and moisture, and ensuring its cleanliness.
Adam Blumenthal, managing partner of Blue Wolf Capital, the majority owner of Gloucester Engineering, attended the event and said, "I am extremely proud to see the equipment run so well and am gratified to observe our customers openly embrace the KAGE brand. We look forward to continuing to serve both the domestic and export market with our KET partners and expanding KAGE's global market share.