Published: November 27, 2013
BOSTON, MA | Paper company Scotties Facial Tissue, obviously is in the business of using trees to make their product, has introduced a curriculum to 3rd, 4th, and 5th grade students across the US about the importance of trees. Scotties says teaching kids about trees makes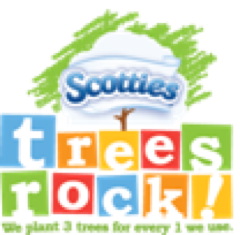 sense for the company, which plants three trees for every one it uses.
Scotties has created this public affairs program encouraging kids to explore the great outdoors. As part of the program, Scotties has introduced the TREES ROCK! Video contest in which kids can submit a video of one to three minutes expressing in their own way "Why trees are so important to them, their school, and their community." The winning entry receives $10,000 to be used toward a sustainable project for their school. In addition Scotties will give them their own TREES ROCK! rock concert and conduct a celebratory tree planting ceremony at their school.
"We are a paper company—plain and simple—but we also know the importance of the environment too," says John Robertson, Scotties' marketing director. "We believe in sustainability and have made that a priority here at J.D. Irving over the last 50 years. In fact, J.D. Irving has planted over 850 Million trees in North American since that time. The TREES ROCK! curriculum and contest is the next step in sharing our passion for trees with the next generation."
The contest centers around educating kids not only on the importance of trees but as part of a bigger picture of sustainability within the community as a whole, the company says.
This email address is being protected from spambots. You need JavaScript enabled to view it.