Published: November 21, 2013
ANSFELDEN, AUSTRIA | Erema has introduced INTAREMA, a plastics recycling system said to significantly enhance performance of its plastics recycling technology.
The patented system includes Counter Current technology, a new configuration of company's patented cutter/compactor/extruder system that is reported to increase production rates and consistency.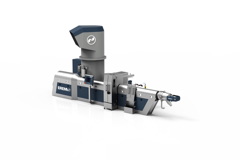 Also new is Smart Start an advanced, automated control system that company says facilitates rapid startups and includes a simple, easily used operator interface.
With INTAREMA's Counter Current technology, the material flow in company's cutter/compactor system is reversed and moves against the direction of the extruder. The inverse tangential configuration of the Counter Current system now ensures that the extruder screw is filled virtually pressure-free with the preheated material. Reportedly, the extruder always has the ideal filling level and is never overfilled, which allows production parameters to be more precisely and efficiently regulated.
According to Tim Hanrahan, Erema North America CEO, the overall result of this inverse-tangential configuration is increased process stability, considerably higher throughput, and a more efficient use of energy. The operation range for optimum system capacity, "the operational sweet spot," has been extended considerably. Production stays at a consistently high level over a much broader temperature range, Hanrahan adds.
This email address is being protected from spambots. You need JavaScript enabled to view it.