Published: November 14, 2013
VIENNA, AUSTRIA | At the German trade fair FachPack in October, Mondi demonstrated that it can offer products that are stable, sustainable, and offer improved runnability. "Mondi is proud to present the innovative new PerfoamPack, which offers superior foaming performance. This solution shows once more Mondi's competence in developing innovative and sustainable solutions close to our customers' needs," says Ralph Landwehr, CEO, Mondi Consumer Packaging International AG and North America.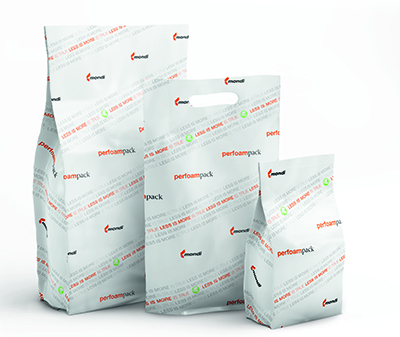 PerfoamPack already earned an award in the category "Food" at the WorldStar Award 2013. After winning the German Packaging Award in 2012, this award marks a second win for PerfoamPack. The WorldStar Competition is organized by the World Packaging Organisation (WPO).
PerfoamPack is a unique co-extruded polyethylene film with a micro-cellular expanded middle layer, which lowers weight without reducing thickness. Its advanced manufacturing technology achieves a superb yield in packaging. It is said to significantly reduce the use of raw materials, by up to 20%, which translates into a lighter film with a direct cost reduction and a much improved carbon footprint.
In many situations, films have been reduced to the extent that further thickness reduction cannot take place without compromising performance. With PerfoamPack, further reductions of material can be achieved. This development allows the weight to be decreased by up to 20% without reducing thickness, or the thickness to be increased in order to gain perceived rigidity and strength without increasing the actual weight.
PerfoamPack is suitable for mono-layer polyethylene packaging films, as well as for laminates. It offers all the conventional mechanical properties required to protect the packaged product—like any other regular polyethylene. Mondi says PerfoamPack is the ideal solution for companies seeking a more sustainable packaging product and to reduce costs.