Published: September 25, 2013
MISSISSAUGA, ON, CANADA | Macro Engineering & Technology reports its coextrusion systems now feature a more compact extruder design with a small footprint that allows more space in the extrusion area and simplifies installation. The newly developed C-series of MacroPlast extruders were specifically designed for coextrusion of film structures with seven or more layers with the versatility to process a variety of polymers, including nylon and polyesters.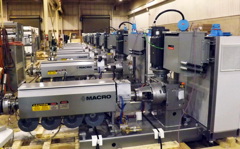 All the controls are mounted to the frame of each extruder and can be configured in different positions to suit specific extruder layouts. The compact design of the C-series paired with its configurable controls positioning will accommodate a 13-extruder configuration.
Each extruder is constructed with a bimetallic barrel and screw to provide maximum durability. Company has incorporated MacroPlastC extruders into all multilayer, blown film, cast film, and biaxially-oriented shrink film lines. The compact extruders are said to be particularly well suited for bi-oriented film lines for sausage casing and shrinkable bags where the downward extrusion configuration can become crowded.
This email address is being protected from spambots. You need JavaScript enabled to view it.