Published: August 29, 2013
PAWCATUCK, CT | Davis-Standard and Guangdong Jinming Machinery Co., (Jinming), Shantou, Guangdong, P.R.China, have signed a collaboration agreement expected to enhance the blown film product line, global footprint, and service capabilities of both companies.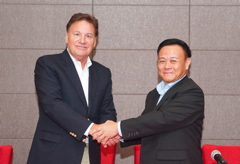 Davis-Standard supplies seven-plus-layer blown film technology, featuring precision engineering to support wide and high-speed blown film processes. The company says the complement of Jinming's capabilities will offer customers a one-stop shop for a wider range of machinery, service, and support.
Davis-Standard's CEO Robert Preston says, "We are extremely delighted about our strategic partnership with a company that shares our philosophy of putting customers first. Our strategic partnership with Jinming enhances [our] ability to provide to customers in Asia and around the world exceptional blown film products and first-rate support and service, while strengthening our competitiveness to ensure long-term success and a market-leading position."
Fred Pereira, Davis-Standard's president—Asia-Pacific, adds, "We are very excited to be partnering with Jinming, the leading supplier of blown film systems in China. With Jinming's modern machinery and focus on quality complementing [our]…technology, we believe we have a winning formula to provide our customers with a range of blown film solutions that offer great value. We are anticipating jointly developing products that will utilize the strengths of each company to benefit our customers globally."
Jinming has been appointed sales representative for the Davis-Standard blown film product line in Asian markets (excluding Russia and the EU), while Davis-Standard has become the exclusive distributor of Jinming's blown film product line in Europe (including Russia and the European Union), Africa, Australia/New Zealand, and North and South America.
This email address is being protected from spambots. You need JavaScript enabled to view it.