Published: October 01, 2007, By Edited by Claudia Hine, Managing Editor
Slitting/Rewinding
A new slitter/rewinder is giving UK-based TCL Packaging more versatility in manufacturing products for the food industry. The recently installed SOMA Engineering Venus II model was supplied through UK-distributor Engelmann & Buckham.
According to TCL production director Markus Jarvstrom, "Much of our business is in the printing and conversion of flexible packaging for fresh produce using different substrates. The configuration of the modular Venus II provides flexibility of setup. We are using rotary shear knives, and with the growth in biodegradable substrates in our sector, this system reacts well."
Automatic Knife Positioning
Optimized for reducing job changeover time, the Venus II accommodates a 53-in. (1,350-mm) web width. It includes an unwind with roll pickup from the floor and shaftless operation at a maximum roll diameter of 47 in. (1,200 mm). The slitting system operates at speeds to 2,310 fpm (700 mpm) with quick knife exchange using cantilevered shafts.
Knife positioning is fully automatic and setups can be stored in the computer memory. Segmented lay-on rollers are designed to ensure high roll quality. Twin rewind shafts are equipped with differential shafts for accurate tension control, and a laser system guides the operator in placing the rewind cores during roll changes. Finished rolls are transferred onto a roll stand for easy handling.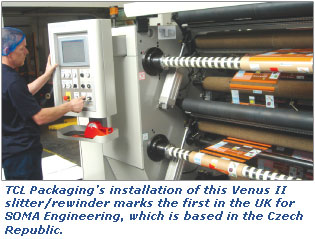 The Venus II also includes an AC servo-driven brake, ultrasonic sensor-based web guiding system, and splicing table. An external trim extraction unit supplied by SOMA reportedly is able to handle a variety of materials at full working speed.
Short Runs, Long Shelf Life
Established in 1999, privately owned TCL Packaging produces flexo-printed products with extended shelf life. The company specializes in anti-mist films, laminates, and lidding films. The new slitter/rewinder is part of an ambitious growth strategy, which includes plans for additional high-tech micro- and needle-perforation units for its high-performance films.
Says Jarvstrom, "The versatility of the Venus II will allow us to integrate various ventilation methods for atmospheric control of packaged produce and thus extend shelf life. The quality of the machine is high and with the latest automated equipment throughout, it lends itself to short-run and quick-change-around work."
---
CONVERTER INFO:
TCL Packaging | C7, Hortonwood 10, Telford, TF1 7ES, Shropshire, UK | +44 01952 677374 | tcl-packaging.co.uk
SUPPLIER INFO: