Published: March 01, 2007, By By Paul Gaster, PCI Films Consulting Ltd.
Flexible Packaging
Over the past five years, the world flexible packaging market* has grown by an average 3.7%/yr to reach $44.5 billion in 2005 for both converted and unconverted materials. This accounted for about 15% of the total global packaging market of some $300 billion.

With the exception of Western Europe, where growth has been very small in value terms in the past five years, all other regions of the world have experienced solid growth, ranging from around 4%/yr in North America to about 7% in Asia Pacific and Eastern Europe (see table). By far the most dynamic markets have been China and India, each growing in value terms by about 15%/yr.


2005 World Flexible Packaging Markets
Avg. %/Year
Region
2005 (US$B)
Change 2000-2005
Total World
44.4
3.7
Europe
13.2
0.6
North America
14.4
4.1
Centra/South America
2.6
4.4
Asia Pacific
12.8
6.5
Middle East & Africa
1.5
5.1
PCI Films Consulting Ltd./Industry Estimates
The world flexible packaging market used a little over 14 million tonnes of various plastic films, speciality papers, and aluminium foils in 2005 to create a variety of flexible packaging specifications for direct consumer packaging. Almost half this total was used in the huge Asia Pacific regional market, but even so, per capita consumption of substrates in this region is well below that of Europe and North America.
This clearly illustrates the huge potential still to be realized in the region in countries such as China, Indonesia, and India. The low level of volume used in Central and South America, the Middle East, and Africa also illustrates the huge potential for growth in these regional markets.
PCI estimates 12 companies account for approximately 35% of the $44.5 billion global flexible packaging market in 2005 (see chart). However, only about half of these companies have broadly based multinational flexible packaging manufacturing operations, and just four have what could be considered a truly global reach—Alcan, Amcor, Sealed Air, and to a lesser extent, Huhtamaki.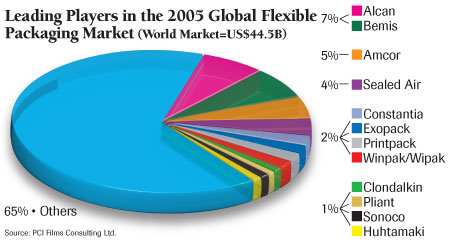 Accelerated Growth
PCI forecasts world flexible packaging growth will increase in value terms by an average of 4.6%/yr to reach nearly $56 billion by 2010. Overall global flexible packaging market growth will be underpinned by the following factors:
Rapid economic growth in many Asian markets, especially in India and China, will continue.
Population will grow rapidly in many emerging economies.
The trend from rigid to flexible packaging will increase in pursuit of lower costs and environmental demands for less packaging.
Huge volumes of food products in the developing world continue to be sold without any packaging and represent an incalculable opportunity for flexible packaging over the long term. For example, currently barely 2% of food products in India are sold to the ultimate consumer pre-packaged.
The demands of the rapidly growing food processing industries will increase, especially in the developing world.
Growth in Asia Pacific will account for more than 50% of world growth in demand over the forecast period. This will see the Asia Pacific region emerging ahead of North America as the world's largest regional flexible packaging market with China taking the lead, having a market second only to the US.
While national markets will continue to be largely self-contained, trade flows across the Asia Pacific region are expected to increase significantly. Converting industries in Australia and New Zealand in particular are likely to feel pressure from imports of lower-cost materials sourced from Southeast Asia.
Flexible packaging markets in North America are forecast to see solid growth averaging 3.8%/yr over the period, supported by growth in population and national economies. The US will see further increases in imports from Mexico, and imports from outside the region—especially from Southeast Asia—are expected to be a growing concern to local producers.
The European market is forecast to grow by about 1.5%/yr on average in value terms. However, while growth in Western Europe is expected to average no more than 1%/yr, demand in Eastern Europe is forecast to increase by 6%–7%/yr over the period, with Russia and Ukraine seeing even larger increases.
Packagers increasingly are targeting growth opportunities in Eastern Europe with local manufacture, and leading flexible packaging converters are repositioning more of their capacity in the region to supply them. Exports outside the European region will continue to be very significant but are likely to come under increasing pressure from destination suppliers.
Demand in Central and South America is forecast to grow by 5.4%/yr, supported by solid growth in all countries across the region. In spite of regional trade agreements, it is unlikely the region's markets will become more integrated. However, trade flows within the region nevertheless are expected to grow.
Markets in the Middle East and Africa are forecast to grow on average by 5%/yr, with above-average growth in Nigeria and Egypt driven by the need to supply the region's rapidly expanding food processing industries. PCI sees European exports to North Africa and sub-Saharan markets starting to be eroded by African-based suppliers.
While aiming for global packaging specifications might, at first glance, be an attractive goal for mass-production suppliers, this is not necessarily what global customers seek. They want specifications that suit the different countries or regions where they have production plants. Packaging machinery differs from one plant to another, and packaging specifications will continue to reflect this.
Customers often talk about global brands, but the products often taste and look different in different markets and are stored under different climatic and retail conditions, thus requiring different packaging formats. The reality is that packaging specifications will continue to vary widely, even for specific customers and products around the world.
The raw materials supply industry (mainly plastic resins, pulp, and aluminium) has been trading in an international market for some years to fill capacity and meet global customer needs. Now the plastic film, paper, and foil companies are addressing the growing emergence of truly global customers in flexible packaging conversion, as their customers' customers (the food manufacturers) are expanding their interests throughout the globe.
The Impact of Globalization
Creeping globalization has been in evidence for some years in the flexible packaging industry, but in the past three years there has been an increased effort to build a strong global position at every level of the flexible packaging supply chain. Following are examples:
Mergers and acquisitions (M&A) and asset swaps at resin manufacturers reducing the number of potential sources and creating stronger, more profitable suppliers;
The attempts to rationalize the world biaxially oriented polyproplyene (BOPP) film market, including the three-way merger of Trespaphan, Dor, and Moplefan, which created Treofan, a global film network with a strong product portfolio;
The aggressive acquisition strategy pursued by some leading converters, especially Alcan and Amcor at the converter level, which has created suppliers able to provide custom packaging solutions in almost every corner of the world;
The M&A and greenfield site strategies of the major multi- nationals, driving their growth into fast-growing food markets such as China and Russia.
All of these factors have contributed to the need to "think global but act local," as one flexible packaging supplier has commented. We believe this will continue to be the aim of the major customers.
The most successful companies embracing the world market recognize that when moving into the global market, it is particularly important for a company to take into account local customs and tastes, business culture, and philosophies to ensure a "best fit." Also, companies do not acquire just to become larger; they acquire or form partnerships with companies that complement or fill gaps in their product or service offerings.
Forming a global flexible packaging supplier can be achieved through a "super merger," such as Alcan/Pechiney/VAW, or through the selection of individual companies offering a suitable technological base or geographic position that fits the strategic direction of the company, e.g., Amcor's focus on the worldwide medical packaging sector and its purchase of specialist converters in this sector.
Over the past five years, there has been a great deal of M&A activity in the world flexible packaging market at the converter level, and we expect this to continue. We also expect to see the leading global players establishing new production plants or expanding existing facilities in rapidly growing markets, especially China, India, and Russia. The world flexible packaging market will continue to be very competitive, which will be a key factor in driving further consolidation.
Globalization of the major customers' production operations will have an impact on their suppliers. In a range of applications, especially snack foods, confectionery, tobacco products, and medical and pharmaceutical products, customers will—to a much greater degree—locate production where it is cheapest, and flexible packaging suppliers will have to follow suit. Eventually, this will see more of the leading packagers supplying whole regions from a few locations. Perhaps one the greatest challenges for the leading suppliers is to rebalance their production by expanding production in rapidly growing and lower-cost markets and close facilities in mature, higher-cost markets.
However, the trend for greater market fragmentation, shorter runs, and quick-response, just-in-time business also favors close proximity between converters and their customers, especially for fresh foods such as dairy products, bread, fresh and processed meat, fish, and poultry. In these circumstances, it is PCI's view that local supply will continue to dominate.
---
---
Paul Gaster is the author of "The World Flexible Packaging Market 2006," a 480-p. study from PCI Films Consulting Ltd. that provides assessments of the global market in terms of size, trends, industry structure, and participants in 68 countries across the world, together with a review of flexible packaging substrate trends in five global regions. The report provides value statistics of flexible packaging consumption by country for the period 2000–2005 and forecasts to 2010. PCI produces Quarterly Business Reports and Regional Supply/Demand Reports for the polyester and polypropylene film and flexible packaging markets. Contact Gaster at +44 1604 749001; This email address is being protected from spambots. You need JavaScript enabled to view it.; pcifilms.com.
---