Published: September 30, 2004, By edited by Nsenga Byrd Thompson, Associate Editor
An Oklahoma-based converter takes a second spin with a gearless flexo press from Asia.
Converting probably isn't the first thing that comes to mind when thinking of our great state of Oklahoma, but the second-generation, family-owned Bags Inc. has spent the last three decades churning out millions of polyethylene bags from its Oklahoma City-based facility.
Operating since 1965, Bags Inc. extrudes its own film and runs a long list of bag applications including side and bottom seal, perforated on a roll, and wicketed. The company also has line- and process-printed up to six colors. Well...until now.
Out with the Old
The year was 1985. New Coke was a huge flop, millions of kids - and adults - rushed out to purchase Nintendo, and Bags Inc. made a new start with the purchase of a four-color Kuen Yuh Machinery Engineering Co. (KYMC) press. KYMC's John Pan made his first visit to the US that year, selling his first central impression (CI) press here.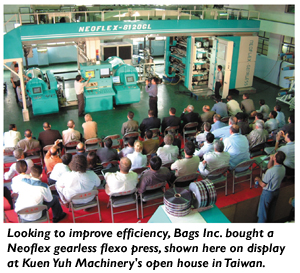 Bags Inc. VP Scott Currie, who was just 15 at the time, fondly recalls that particular visit from Asia. Twenty years later, Bags Inc. will retire its four-color CI flexographic press and install a new KYMC eight-color Neoflex gearless press.
Over the past 20 years, Bags Inc. has run the press an average of 9 hr a day, 5.5 days a week, at about 300 fpm, and printed an estimated 6 million lb of product. Today it still stands strong and is in good working condition.
Currie says of the old press, "It was good for short runs. It was a compact press with relatively quick changeover for a cylinder press. It held good register, and the quality was good in general."
But Currie knew it was time for a change. The main priority for Currie and Bags Inc. VP Kevin McGehee was to improve efficiency. Having shopped around, the two were familiar with the prices and quality of European suppliers, but in the end, fate brought Currie and Pan together again in 2003 at the Converting Machinery/Materials Conference and Exposition (CMM). That's where Bags Inc. decided to stick with KYMC's service and quality for its new purchase.
Local Service Is Key
Currie and McGehee discovered KYMC has come a long way over the years, now offering the latest in technology with fully computer numeric controlled (CNC) presses and gearless options. The eight-color gearless Neoflex press includes Rexroth Indramat servo drives, a GE Fanuc programmable logic controller (PLC), and a European-built CI cylinder.
Currie and McGehee spent a week in Taiwan testing and providing final approval for the Neoflex. "The new press is in a complete other league," says McGehee. "It has a changeover time from job to job that will be fractional compared to what we are used to. Increased run speed will help efficiency and productivity while maintaining, most importantly, excellent print quality."
He adds, "In the end, what brought us to KYMC is that all parts can be serviced locally - drives, servo motors, web guides, PLC. KYMC uses components that are familiar and locally accessible to the client, while staying within our budget. We got all of what we wanted without cutting corners."
Along with impressive quality, service also has met expectations. Specifically in regard to communication, McGehee raves, "It has been very good during the manufacturing process. With today's means of communication, there is no limit. KYMC answers all communications within 24 hours." Dealing directly with KYMC's North American staff, says McGehee, also facilitates efficient communication.
With proven quality and the service that Bags Inc. has come to expect from KYMC, chances are East and West may meet again at CMM 2023. Only time will tell.
Converter Info
Bags Inc.
1900 N. Sooner Rd.
Oklahoma City, OK, USA 73141
800-622-2470; bags-inc.com
---
Supplier Info
Kuen Yuh Machinery Engineering Co. Ltd. - kymc.com
Bosch Rexroth Corp. - boschrexroth-us.com
GE Fanuc - gefanuc.com
---