Published: August 31, 2004, By Teresa Koltzenburg, Senior Editor
Flexicon's brand new PCMC Infiniti II provides the converter with just one more way to solve its customers' problems.
How many converters does it take to change a light bulb? I don't know the answer (as if there is just one to this "problem") but chances are Flexicon probably can figure it out. Like Thomas Edison, the Cary, IL-based converter's existence is filled with figuring out answers, inventing new ways to solve problems.
"We've always targeted high-performance, challenging applications, things that are difficult," explains Greg Baron co-founder and CEO of the company he started with his father, Walter Baron, 28 years ago. "We're not a 'me-too' company. We make products other converters are challenged by, that in fact, are having problems with, or work they just don't want to do. That's our focus."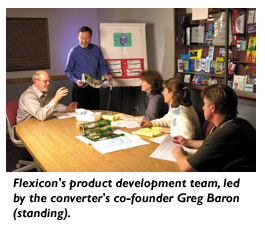 Among the high-performance converted products Flexicon invents, innovates, and manufactures are a variety of pouches and other laminated packaging structures utilized by its widespread, North and Central American customer-base, companies that supply products to the medical and pharmaceutical markets.
"That's about 65 percent of our business right now, and our amount of work for the medical and pharmaceutical markets is expanding," reports Flexicon president Bob Biddle.
In addition to Flexicon's custom-engineered laminations and converted products for the medical and pharmaceutical arena, the converter's 70-person-strong workforce manufactures packaging for the growing "wet wipes" (nonwoven, saturated wipes) market, food packaging (for consumers and restaurants), and converted products utilized in various industrial applications.
Enlightened Laminations
In recent years, Flexicon has targeted solventless product development; the company utilizes its solventless Comexi laminator, purchased in 1997, for manufacturing its trademarked Flexi-Free solventless structures. According to Baron, the company's solventless manufacturing techniques and its Comexi laminator enable it to produce high-performance, solvent-free converted products at a cost-competitive level.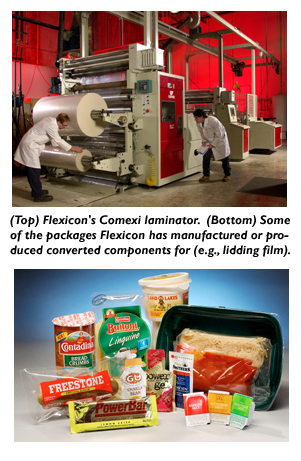 "I think the superior nature of the products we're producing today is due to the fact we've been able to produce them very, very clean, with very low residual solvents," he explains. "And that's the Food and Drug Administration's focus for packaging materials — to get any solvents involved with the building of the structure out as completely as possible."
Flexicon still produces structures made with solvents on two other laminators, which Baron (who has an engineering background) designed and built. Three pouch machines and six slitters, all also produced with proprietary technical capability, round out the converter's equipment line-up.
Film and foil laminations make up a majority of Flexicon's product array, and the Flexi-Free technology enables the operation to manufacture a variety of its solventless flexible structures, including the popular polyester/foil/polyethylene combination. In addition, Flexicon can include other substrates in its Flexi-Free structures, depending on the application and required performance attributes.
Flexicon buys its substrates from Pliant Corp., Southern Film Extruders, Kimberly-Clark, and Charter Films and utilizes adhesives made by Henkel and Rohm & Haas in its lamination processes.
Energetic Engineering
Though Flexicon tackles a variety of what can be wince-inducing high-performance structures used to package sterile and/or chemically aggressive products, the converter does it with a relatively modest R&D department.
"[Though our research and development team] is fairly small," says Biddle, "we have the right people staffing it. That's always been our strength — because when [a customer] has problems, we can come up with solutions very fast, within days, rather than months. It's been an advantage for us."
Another advantage, it seems, for Flexicon is its prodigious and candid approach to R&D. Biddle explains: "We're constantly working on structures, to improve the cost basis of the products we're selling. We maintain the performance level but at a reduced price. That's part of what our research and development people are working on always."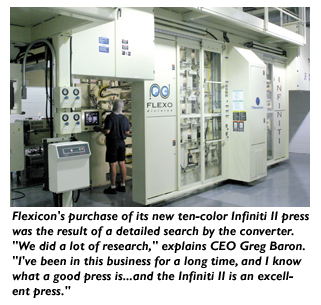 Though the company does try to protect its product research and development as much as possible, Biddle and his team don't seem to be too daunted by reverse engineering. "We're trying to be our worst competitor ourselves," he says. "Others are out there trying to improve our products, so our philosophy is we should be trying to improve our products too."
An Infinitely Advantageous Addition
Successful for several years at staking out and producing winning yet difficult laminated structures, this year Flexicon upped the ante in its printing game with the installation of a new Infiniti II 10-color flexo press. The 50-in.-wide PCMC-manufactured CI, gearless machine will provide its customers with even higher print quality. "We [see this press as] another way of offering a benefit to our customers," says Biddle.
Besides the better graphic and color capacity, Flexicon's Infiniti II also provides the converter with better productivity via its quick-changeover capability. "Faster changeovers were a very big reason we purchased this press," reports Biddle. "Plus it also has higher run speeds. Both of those things — the speed and efficiency of the press — were our main reasons for getting the Infiniti II."
Biddle also says the Infiniti's eXtreme dryer, PCMC's reportedly robust and touted drying technology, contributes to Flexicon's capacity to produce high-performance structures.
"This dryer fits in well with the needs we have for manufacturing clean films," he explains. "While we've always done this, the eXtreme dryer is just going to make it that much easier."
The press is designed to run both solvent-based and water-based inks; the converter buys its ink from Sun Chemical and INX Intl.
According to Biddle, Flexicon also equipped its new Infiniti with a newly upgraded Advanced Vision Technology print inspection system, the same system it utilized on the decommissioned press the PCMC model replaced.
The Illuminatd Journey
With its brand new Infiniti press, Flexicon may be on the precipice of yet another formidable foray — the challenging world of high-end packaging graphics. But with its straightforward and unyielding approach to research and development, as well as its ability to deliver high-performance, cost-competitive laminated structures, this converting industry problem-solver plans to embrace its venture into the ten-color world heartily, "Our [new Infiniti II] will enable us to open up our market [pursuits]," notes Biddle.
And what about that light bulb problem? How many converters does it take to change a light bulb? One answer — from any converter — could be: "That's proprietary information; an answer is available upon payment of a license fee." But adroit problem solvers like Flexicon also may answer: "None. Problem-solving converters only replace dark bulbs."
Converter Info
Flexicon Inc.
165 Chicago St.
Cary, IL 60013
847/639-3530; flexiconinc.net
---
Supplier Info
Paper Converting Machine Co. —pcmc.com
Comexi —comexi.com
Pliant Corp. —pliantcorp.com
Southern Film Extruders —southernfilm.com
Charter Films —charterfilms.com
Kimberly-Clark —kimberly-clark.com
Advanced Vision Technology (AVT) —avt-inc.com
Rohm & Haas —rohmhaas.com
Henkel —henkel.com
Sun Chemical —sunchemical.com
INX Intl. —inxinternational.com
---