Published: September 22, 2004, By pffc-online.com
PRESS RELEASE
LINCOLN, RI, USA — Windmoeller & Hoelscher reports it will highlight the capabilities of its Topas FFS (forming, filling, and sealing) machine at Pack Expo in Chicago this fall. According to the OEM, Topas converts printed and unprinted tubing made from polyethylene (PE) and polypropylene (PP) as mono or barrier films as well as film laminates.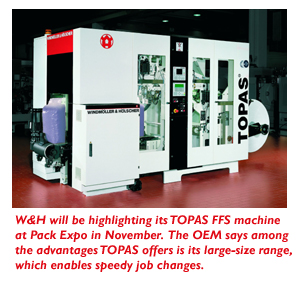 "Because sacks are produced, filled, and sealed from continuous side-gussted tubing (cast film is avaiable as an option) in one single operation, the FFS process represents the most economical packaging technology," states W&H
Adds the OEM, "Topas systems are used worldwide for packaging the most diverse free-flowing bulk goods, including plastic resins, fertilizers, salts, sugars, chemicals, vitamin powders, seeds, as well as pet food. Even difficult-to-handle products — such as heavy-flowing and powdery products or even dusty products (including S-PVC powders) — can be processed by the Topas with ease."
Visit Windmoeller & Hoelscher at Pack Expo 2004 in Chicago at booth 2809. Learn more about W&H at whcorp.com.
---