Published: February 29, 2004, By Edited by Nsenga Byrd Thompson, Associate Editor
Wisconsin Film & Bag goes live with a customer relationship-management system to provide sales reps with current, shared data.
Despite a lagging economy, Wisconsin Film & Bag, a manufacturer of a wide range of plain and printed custom polyethylene bags and film products, is set on rapid growth through the expansion of products, geographical markets, and subsequently, revenue over the next five years.
Now more than ever in its 30-year history, the company's business model will center on superior customer service marked by quick turnaround. With plants in Shawano and Hartland, WI, functioning at a combined capacity of 38 million lb, this will require seamless management of business intelligence to ensure successful data sharing throughout the entire organization.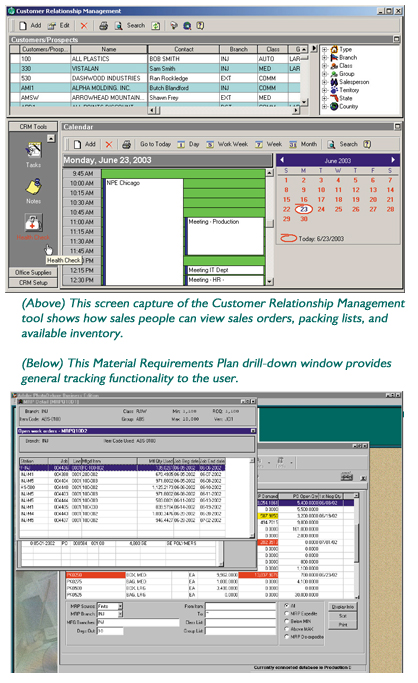 Key to Wisconsin Film & Bag's success will be the ability of its sales force to transform strategy into operational processes and business functions in order to retain customers and build loyalty. This process is contingent not only on keen insight and market savvy but also current, accurate information.
However, for many years, the sales people operated their own systems of data tracking, which generated informational inconsistencies throughout the company.
According to Alan Johnson, CFO and director of business integration, "The salespeople had their own software systems, from various developers, to keep track of their customers and prospects. They maintained their own individual databases and were not using the company database stored in our enterprise resource system. The sales people, who make sales calls every day, had the most current information, but our main database was outdated because they didn't use the company ERP system as a customer management tool. This created loop holes in the sales cycle."
Solution-Driven Software
Since 1998 Wisconsin Film & Bag has employed The Manufacturing Manager (TMM) from DTR Software International as its enterprise resource planning software. TMM is a manufacturing, distribution, and financial management software addressing the unique requirements of the plastics processing industry. In December 2002, the company went live with the latest version of the software, TMM v.9, featuring the robust customer relationship management module TMM-CRM.
Designed to improve customer service, TMM-CRM also can reduce sales lead times by gathering and continuously updating knowledge about customer needs, motivation, and behavior. It measures both input across all operational functions and output in terms of customer revenue, profit, and value. TMM-CRM also allows processors to flex the balance between marketing, sales, and service inputs against changing customer needs to maximize profits.
"Through TMM-CRM, sales people have the ability to look at orders, packing lists, inventory, etc., which is very important, because one of our goals is to tighten communication between customer service, the sales force, and our credit department," says Carol Jochman, business systems specialist. "TMM-CRM is the tool that's going to make that happen. Everyone knows where all sales orders stand at the same time, in real time.
"Not only can they get to customer information, but that information is shared. Once the information is input into the system, it's visible to all of the salespeople, customer service representatives, and the accounting people," Jochman explains. "It's that ability to share customer information and keep people informed without having to make a phone call that empowers our sales force to make timely decisions."
As an example, Jochman says if there is a customer order for a product sample, the sales reps have the option of communicating directly with customer service on that order, or they can go into TMM-CRM and view for themselves when that sample order was — or will be — sent. Therefore, the sales person has the ability to begin follow-up the moment the sample leaves the plant.
"You could have done this with the other versions of TMM if you knew where to go," says Jochman. "TMM-CRM is just much simpler to navigate, because there is much less to learn and to look at. You simply select a customer and click a single icon — you don't have to learn all of the specifics about TMM.
"Further, you would not want a sales representative having to learn the entire TMM product. Their real objective is to be out selling and developing customers. Because it's so user friendly, TMM-CRM allows them to focus their energy and time where it should be. Yet, it still makes information readily available to the sales force with a very simple product," Jochman explains.
Feature-Rich and User-Friendly
According to Johnson, TMM-CRM's user-friendly interface also provides a greater return on investment because employees use the software to a greater extent. "TMM is an excellent product. It has a lot of features and a lot of power. However, it's an enterprise resource product," he says. "The things that you need may be spread out over many different modules, so you have to navigate from one place to another.
"Because of that, it often took a long time for some people to learn where to go to find the information they needed. As a result, I wasn't observing the desired depth of use of the software by some of the staff," says Johnson. "I would like the people who are using the software to penetrate deeper into the software. TMM-CRM has made it much easier for a large group of people who are heavy users, such as inside sales and customer service."
The in-depth levels of information that can be stored and shared in TMM-CRM, Jochman says, have provided new tools for diffusing customer issues and building stronger relationships that can lead to increased sales.
"If customer service has a complaint issue being resolved with a customer, they may be doing all of the follow-up. The sales person may not be involved because it's being handled internally by customer service," says Jochman. "However, now that customer service keeps notes in TMM-CRM, the sales people can be aware of what's going on. If the sales people decide they need to make a phone call, they can do that. It's a closer communication link."
CONVERTER INFO
Wisconsin Film & Bag
3100 E. Richmond St.
Shawano, WI
715/524-2565; wifb.com
---
SUPPLIER INFO
DTR Software International; dtr-software.com
---