Published: February 29, 2004, By Stanley Sacharow, Contributing Editor
A Schiavi gearless press adds its capabilities to Seville Packaging's flex-pack operations.
Located just minutes from Toronto's Pierson Airport in the bustling suburb of Mississauga, ON, Seville Packaging is among the top ten flexible packaging converters in Canada. The company, which started operations in November 1989, is an integral part of Canada's flexible packaging "boom" with a facility located on 65,000 sq ft and about 70 employees. High quality flex-pack printing is Seville's niche.
During an exclusive visit from PFFC, Mario Simone, the firm's general founder, explained, "Our strength is in the fact that we have no middle management, and all our decisions are made quickly to address any customer concerns. We are projecting a large demand in high quality flexo printing from the new breed of market manager now in the large consumer product companies."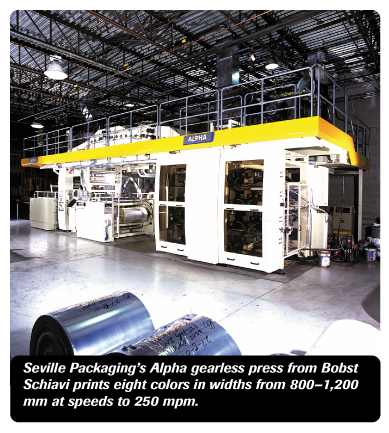 Small Converters Move Up
Seville Packaging is typical of the flexible packaging firms that have made Canada the nation in which there are more flexo presses and laminators sold per capita than anywhere else in the world. Because of the North American Free Trade Agreement (NAFTA), small Canadian flex-pack converters have become mid-size by selling to US markets. These companies now are pushing out the large converters and attracting both Canadian and US customers.
Rapid growth, globalism, free trade, and the ability to produce profitable small runs all are responsible for the presence of almost 60 flex-pack converters in Ontario and 25 in Quebec. Ontario, Canada's most industrial province, has a flex-pack industry estimated at $300 million.
Equipped for Success
Seville's spotlessly clean plant contains four flexo presses. The earliest installed unit (1989) was a six-color Kidder. A 47-in., six-color Kidder was added in 1994 and was soon followed by a 57-in., eight-color Schiavi press in 1999. The company's newest flexo press, delivered to Seville in mid-2001, is an eight-color Alpha Bobst Schiavi press. This central impression model is gearless with print widths from 800-1,200 mm and speeds to 250 mpm. The sleeve-based disk design for both anilox and print cylinder directly drives each sleeve with its own AC vector motor.
There are two laminators on the floor: a 45-in. Faustel and a new 57-in. solventless Schiavi.
Complementing the presses and laminators are three slitters, two bag-in-box machines, two internally designed stand-up pouchmakers with zippers, and five additional bagmakers producing polyethylene bags.
Many Products, Many Customers
Because of both Seville's superior flexo print quality and short-run ability, its customers are both Canadian- and US-based. More than 35% of its production is exported south of the border. Major stateside customers include Brent and Sam's Cookies, Good Earth Canada, and Mar-Key Foods. The company's bag-in-box stock is used by Vincor International, the largest-volume winery in Canada.
Representative laminates produced by Seville include 45# coated paper/60-ga oriented polypropylene (OPP); PET/polyethylene (PE)/OPP/OPP; aluminum foil/PE; polyamide (PA)/PE; and other constructions. The paper/OPP bag supplied to US-based Brent and Sam's Cookies is printed eight colors with the superb quality expected of this converter. PE and nylon PA are supplied by DuPont Canada; OPP is from ExxonMobil; inks are from Sun Chemical.
Future plans include the addition of a third laminator to complement the newest Schiavi press and possible plant expansion stateside. A joint venture with either a European or Asian-based flex-pack converter looms in the future. All in all, another Canadian converter movin' on up.
CONVERTER INFO
Seville Packaging Inc.
1285 Mid-way Blvd., Mississauga, ON, Canada L5T 2G8; 905/670-9428; sevillepackaging.com
---
Stanley Sacharow has been in the flexible packaging industry for more than 35 years. His company, The Packaging Group, is an organizer of targeted conferences and a consultant to the international packaging/converting industry. Stan is also the author of PFFC's "Package Converting" column. Contact him at 732/636-0885; e-mail: This email address is being protected from spambots. You need JavaScript enabled to view it..
---
About Canada: Mosaic Makes Character
Canada has areas of vast wilderness, plains, and mountains. But it is also a complex, multi-cultural land infused with US culture and scores of traditions brought from Europe, Asia, and Latin America.
While the US is a melting pot, Canada remains a fine mosaic of various cultures, each one contributing to the overall Canadian character.
Secure in its distinct identity and grappling with its indigenous French and British traditions, Canada is somewhat of a window into European mentality and markets. The nation's flexible packaging industry is growing rapidly with the advent of NAFTA. A visit to a large Canadian supermarket, which superficially resembles a US one, points out various package differences: milk in PE pouches, vinegar in HDPE bottles, hot-filled juices, and other differences.
---
SUPPLIER INFO
Schiavi SpA (a member of the Bobst Group of cos.); bobstgroup.com
Kidder Inc.(now Kidder Parts); kidderparts@aol.com>
Faustel; faustel.com
DuPont Canada; dupont.com
ExxonMobil Chemical Co. Films Business; oppfilms.com
Sun Chemical, Gen. Print Ink Div. sunchemical.com
---