Published: October 29, 2013
HOUSTON, TX | Valéron Strength Films (part of the worldwide ITW group) recently installed a new film extrusion line with unprecedented capabilities. Valéron's system engineer, Luc Geven, who was closely involved in the development of the new production line, explains: "We built the line to produce an even higher quality film with significant improvements in accuracy and efficiency, improving our ranking of good manufacturing practices and clean production processes. In short, the new production line only brings advantages."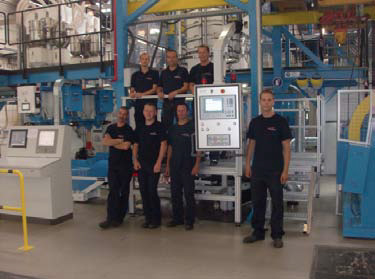 In line with tomorrows needs and applications
The construction of the new line did impact the daily production and deliveries. The planning, begun at the end of October 2012, was been achieved without any problems. On April 15, Valéron started with the demolition of the "old" line. On June 14, the new line was ready. And barely a week later, on June 20, it was fully operational.
The management of Valéron Strength Films pays tribute to all the people who made this possible: "The new line has been realized with our own know-how and technical services. Together with our committed team of subcontractors we brought this innovative project to a good end."
Valéron's general manager, Umesh Mishra, says: "The 'strength' of Valéron is its capability to innovate today's performance film segment, starting from a product that Valéron knows and masters better than anyone else: our cross-laminated film. It is our mission to constantly improve its quality in order to create new capabilities. I gladly invite our partners to join us in the search for new solutions. With the cross-laminated film quality of today we are perfectly prepared for new markets, new developments, and new challenges."
This email address is being protected from spambots. You need JavaScript enabled to view it.