Published: May 29, 2018
SOUTH ELGIN, IL | Hoffer Plastics is launching two new closures for flexible pouch packaging, each said to offer advancements and benefits in terms of manufacturing compatibility, industry applications, product safety, tamper evidence, and seal integrity.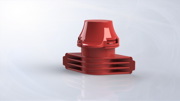 The Tether Lok leverages the company's Trust-T-Lok basic design and properties, but goes a lot further. Tether Lok is a one-piece spout and neck fitment, ready to be installed on pre-formed flexible pouches. Company says the real benefit is the tethered, flip-top design of the cap closure, reportedly the perfect solution for on-the-go usage and consumption.
The tethered top is said to eliminate the problems of lost or misplaced caps, product spillage, and waste, as well as the potential for product safety and spoilage issues. "Tether Lok represents a real advancement in convenience, product quality, and product safety," says Alex Hoffer, VP of sales and operations. "In applications from baby food to functional beverages to condiments, consumers will love that they can open, enjoy, and easily re-close the product with one hand." Tether Lok is molded using a proprietary resin that reportedly offers excellent sealing properties, multiple color options, and is environmentally friendly.
The second closure in the company's new lineup is the Drop Lok P20. This closure is a new member of the line of threaded, screw-top caps that are commonly used across almost every industry: food and beverages, personal care, automotive, household, and many others. This latest addition to the Drop Lok line is a 20-mm-dia size, designed specifically for compatibility with flexible pouch packages. Consumers who prefer a traditional screw-top design can now find many of their favorite pouched products with this familiar, easy-to-use closure. Drop Lok P20 also is reported to offer superior tamper evidence and superior seal integrity, and it is available in a wide range colors and FDA-sanctioned resins (including clear and environmentally friendly choices).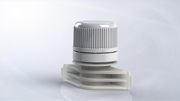 "Our two new closures were designed to provide convenience and enhanced safety benefits for consumers," says James Harris, director of engineering. "But we're equally excited that both Tether Lok and Drop Lok P20 offer significant manufacturing benefits and growth opportunities for our customer partners."